Benjamin Franklin? Anonymous?
Dear Quote Investigator: Recently, I came across an insightful saying about psychology:
Three of the hardest entities are steel, a diamond, and self-knowledge.
Would you please help me to determine the originator?
Quote Investigator: In 1750 statesman Benjamin Franklin included an instance in "Poor Richard's Almanack". The word "extremely" was spelled "extreamly". Emphasis added to excerpts by QI: 1
There are three Things extreamly hard, Steel, a Diamond and to know one's self.
Some the sayings propagated by Franklin were selected from previously published books and periodicals. For example, Franklin is often credited with "Time is money", but that proverb was circulating decades earlier. Nevertheless, QI has not yet found a precursor for the saying under examination and would provisionally credit Franklin.
Below are additional selected citations in chronological order.
When Franklin published the expression he interleaved the words in a table of astronomical facts concerning the month of January 1750. QI has underlined the adage in red in the page image below: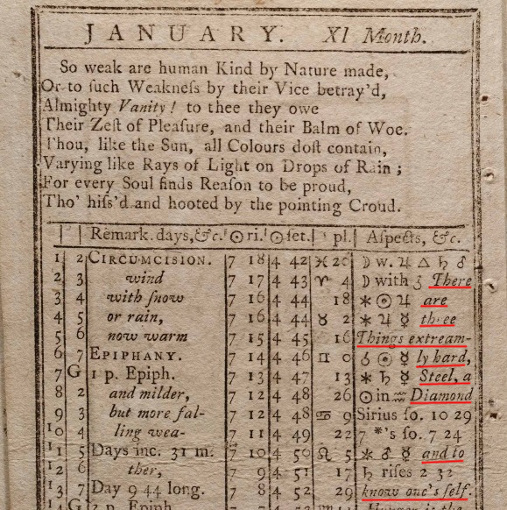 In 1891 "The Chautauquan: A Monthly Magazine" printed an article presenting a miscellaneous collection of "The Sayings of Poor Richard". Here were four: 2
Having been poor is no shame, but being ashamed of it, is.

'Tis a laudable ambition, that aims at being better than his Neighbors.

All would live long, but none would be old.

There are three Things extremely hard, Steel, a Diamond and to know one's self.
The saying continued to circulate in 1904 when it appeared in book containing Benjamin Franklin's autobiography and a section based on his almanacs. 3
In 1947 "The Reader's Digest" printed a piece by prominent self-help author Dale Carnegie which included a passage about Franklin: 4
Franklin battled with one of his shortcomings every day for a week and kept a record of who had won each day's slugging match. The next week he would pick out another bad habit. He kept this up for two years. Later he wrote: "There are three things extremely hard: steel, a diamond and to know one's self."
In conclusion, the quotation appeared in Benjamin Franklin's 1750 almanac, and QI believes he should receive credit. However, future researchers may discover earlier instances.
(Great thanks to Andrew Old whose inquiry led QI to formulate this question and perform this exploration.)