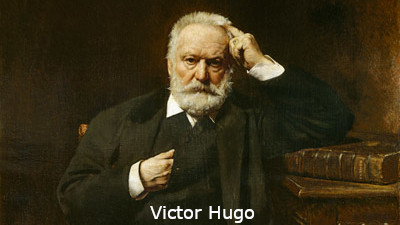 Creator: Victor Hugo, French poet and novelist; author of "Les Misérables" and "The Hunchback of Notre-Dame"
Context: Victor Hugo kept a diary for several decades during the 1800s. He published a volume titled "Choses Vues" ("Things Seen") in 1887 based on portions of his diary. A section dated 1845 described Hugo's meeting with educator and politician Abel François Villemain. Hugo discussed the harsh criticism that Villemain and others faced. Here is an English rendition. Emphasis added to excerpt:[1] 1887, Things Seen (Choses Vues) by Victor Hugo, Volume 1, 1845 Villemain, Start Page 82, Quote Page 88 and 89,George Routledge and Sons, Glasgow and New York. (HathiTrust Full View) link
You have enemies? Why, it is the story of every man who has done a great deed or created a new idea. It is the cloud which thunders around everything which shines. Fame must have enemies, as light must have gnats. Do not bother yourself about it; disdain. Keep your mind serene as you keep your life clear. Do not give your enemies the satisfaction of thinking that they cause you grief or pain. Be happy, be cheerful, be disdainful, be firm."

He shook his head sadly. "That is easy for you to say, Victor Hugo. As for me, I am weak. Oh! I know myself. I know my limitations.
Below is the original French version of the passage above:[2]1887, Oeuvres Inédites de Victor Hugo: Choses Vues by Victor Hugo, Sixième Edition, Section: Villemain – 1845 Décembre 7, Start Page 87, Quote Page 94, J. Hetzel & Cie, Paris, France. … Continue reading
Vous avez des ennemis? Mais c'est l'histoire de tout homme qui a fait une action grande ou créé une idée neuve. C'est la nuée qui bruit autour de tout ce qui brille. Il faut que la renommée ait des ennemis comme il faut que la lumière ait des moucherons. Ne vous en inquiétez pas; dédaignez! Ayez la sérénité dans votre esprit comme vous avez la limpidité dans votre vie. Ne donnez pas à vos ennemis cette joie de penser qu'ils vous affligent et qu'ils vous troublent. Soyez content, soyez joyeux soyez dédaigneux soyez fort.

Il hocha la tête tristement:— Cela vous est facile à dire à vous, Victor Hugo! Moi je suis faible. Oh! je me connais bien. Je sais mes limites.
Related Article 01: That you have enemies, you must not doubt, when you reflect that you have made yourself eminent. Thomas Jefferson
Image Notes: Portrait of Victor Hugo painted by Leon Joseph Florentin Bonnat circa 1879. Image has been cropped.
References

↑

1
1887, Things Seen (Choses Vues) by Victor Hugo, Volume 1, 1845 Villemain, Start Page 82, Quote Page 88 and 89,George Routledge and Sons, Glasgow and New York. (HathiTrust Full View) link

↑

2
1887, Oeuvres Inédites de Victor Hugo: Choses Vues by Victor Hugo, Sixième Edition, Section: Villemain – 1845 Décembre 7, Start Page 87, Quote Page 94, J. Hetzel & Cie, Paris, France. (Google Books Full View) link