Neil Gaiman? Jerry Garcia? Elizabeth McCracken? Robert Burton? Apocryphal?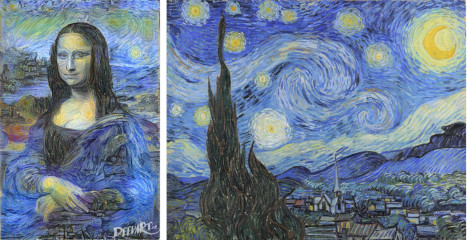 Dear Quote Investigator: I have heard two fascinating adages about artistic style:
Style is the stuff you can't help doing.
Style is the stuff you get wrong.
Both statements were made by the prominent fantasist Neil Gaiman who writes short stories, novels, comic books, and screenplays. Yet, Gaiman credited both phrases to acclaimed guitarist Jerry Garcia of the Grateful Dead rock band. Would you please examine this topic?
Quote Investigator: The earliest match located by QI appeared in an interview of Neil Gaiman conducted by journalist Joe McCabe at the Boskone science fiction convention in February 2002. Boldface added to excerpts by QI: 1
I know Jerry Garcia said it once, but I know many people have said it before him, which is "Style is the stuff you can't help doing." Style in some ways is the stuff that you do wrong. Because perfect technique would be completely without style. Stuff that lets everybody know that it's you playing is the falling away from perfect technique. So after you've written a few million words, the thing that lets anybody picking up a page read it and say, "Neil wrote that," is style, it's the stuff you can't help doing.
Gaiman credited Garcia with the first adage: "Style is the stuff you can't help doing." However, the punctuation of the passage suggests that Gaiman himself crafted the second adage: "Style in some ways is the stuff that you do wrong. " By 2008 Gaiman had refined the second adage to: "Style is the stuff you get wrong." Confusingly, Gaiman attributed these words to Garcia.
Uncertainty remains because over the years Gaiman has credited both sayings to Garcia, and neither has yet been found in the interviews and writings of Garcia.
QI hopes that this article will encourage fans of Jerry Garcia, Neil Gaiman, and others to further explore this topic.
Below are additional selected citations in chronological order.
The notion that the writings of an author often display a style that pinpoints identity has a long history. In 1621 Robert Burton referred to a Latin saying while stating that style betrays us. The irregular spelling in this passage is from the original text: 2
It is most true, stylus virum arguit, our style bewrayes vs, and as hunters find their game by the trace, so is a man descried by his writings.
In 2001 English Professor Ben Yagoda was gathering material for his 2004 book "The Sound on the Page: Style and Voice in Writing". Yagoda spoke to novelist Elizabeth McCracken who presented a viewpoint about style and voice that was thematically congruent with Gaiman's: 3
A writer's voice lives in his or her bad habits. That's the heart of a voice. The trick is to make them charming bad habits. You have to leave some of them alone—basically, leave enough in, so that, if you're Grace Paley, readers know it's Grace Paley.
In 2002 Neil Gaiman spoke to Joe McCabe and made pertinent remarks about style as described at the beginning of this article.
In 2004 Gaiman wrote an online journal entry replying to an aspiring 16-year-old novelist. Gaiman discussed style and employed the first adage with an anonymous attribution: 4
I don't think there's anything wrong with trying on styles when you're starting out — it's like borrowing hairstyles or hats. And there's many a time that a facility for being able to imitate a certain voice or style has got me out of trouble as a writer. And sometimes it's fun. Eventually, if you write enough, you start sounding like yourself (style is, as someone once said, the stuff you can't help doing).
In 2008 "Prince of Stories: The Many Worlds of Neil Gaiman" appeared. Interviewer Henry Wagner posed a question to Gaiman about the mythic themes in his writings. Gaiman did not mention the first adage; instead, he employed the second adage while crediting Garcia: 5
HW: A consistent aspect of your work is how you touch more on the mythic themes that transcend culture, working with themes that reflect the human condition. Is that something you deliberately set out to do?

NEIL: I think Jerry Garcia said, "Style is the stuff you get wrong." My tendency to go mythic, it's not something I really think much about; it's not like I sit down and say, "I think I'll go mythic today."
The 2017 collection "Light the Dark: Writers on Creativity, Inspiration, and the Artistic Process" included Gaiman's essay "Random Joy". Gaiman employed the first adage without attribution, and he credited the second adage to Garcia: 6
I started to realize that style is not an affectation—it's the stuff that you can't help doing. I remember running into a quote once years ago from Jerry Garcia of the Grateful Dead, where he said, "Style is the stuff you got wrong." Because if you took him out, the person, everything would be played beautifully and perfectly—the falling away from perfection is what we recognize, and that makes style.

It's a fascinating quote, but when I went to Google it, all I was ever able to find was me saying it quoted in interviews. (Perhaps he never said it at all.) But there's definitely that feeling that, at the end of the day, style is the stuff you can't help doing.
In 2017 Joseph Michael Sommers (JMS) and Maggie Grace Sommers interviewed Gaiman, and the result was included in the 2018 collection "Conversations with Neil Gaiman". Once again Garcia was given credit for the second adage: 7
There was a thing that I thought was a Jerry Garcia quote, but I have googled it now many times and the only person I have found either saying the quote or attributing it to Jerry Garcia is me. (JMS: [laughter]) Your guess is as good as mine, but, it's that, "Style is the stuff you get wrong." The idea being that if you wrote absolutely—if you were writing perfectly style-free, you would be writing perfect prose. It's the stuff that you give up on, it's the stuff that you don't do right that tells people it's you.
In conclusion, the identity of the creator of the first adage is uncertain. Neil Gaiman used it in 2002, but he credited Jerry Garcia. It has not yet been located in the interviews or writings of Garcia.
QI tentatively credits Gaiman with the second adage because he employed an instance in 2002 without attribution. Later Gaiman credited Garcia with the statement, but QI conjectures that Gaiman mentally combined the two adages in his memory and this jumble led to confusion.
Perhaps future researchers will uncover germane statements from Jerry Garcia that will clarify the situation.
Image Notes: Example of style transfer via a neural network using the website deepart.io. The style of Vincent van Gogh's "The Starry Night" was transferred onto Leonardo da Vinci's "Mona Lisa".
(This exploration was initiated by QI when he heard Gaiman use the second adage during a video lesson titled "Finding Your Voice" within the author's MasterClass series. Gaiman credited Garcia, but also described his uncertainty. Special thanks to Ben Yagoda who pointed to pertinent material in his book "The Sound on the Page: Style and Voice in Writing". Yagoda also mentioned the passage in "The anatomy of melancholy".)
Update History: On December 11, 2019 the citations for "The Sound on the Page" and "The Anatomy of Melancholy" were added.