Queen Victoria? Lucy Baldwin? Pierre Daninos? Lady Hillingham? Lady Hillingdon? Jonathan Gathorne-Hardy? Apocryphal?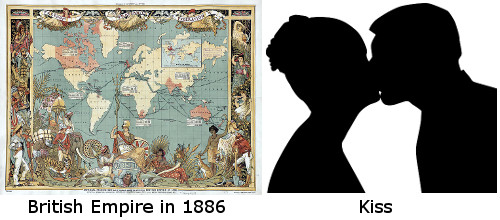 Dear Quote Investigator: There is a well-known though unreliable anecdote about the guidance offered to brides in the repressive Victorian era. Supposedly, Queen Victoria was asked by one of her newly married daughters about possible carnal activities in the marriage bed. Here are five versions of the response:
Just close your eyes and think of England.
Shut your eyes tight and think of England.
Lie still and think of the Empire.
Lie back and think of the Empire.
Lie still and think of a new way to trim a hat.
I doubt that this story is accurate. Sometimes one of the statements above is presented by a historian as archetypal advice in the 1800s without a specific attribution. Nowadays, these expressions are employed satirically. Would you please explore this topic?
Quote Investigator: There is no substantive evidence that Queen Victoria ever made a statement of this type. QI and several other researchers have attempted to trace expressions in this family and found that they started to appear in print in the 1900s and not the 1800s. A book published in 1972 asserted that the first statement was written in a personal journal in 1912, but no researcher has located this journal, and apparently the tale was apocryphal.
The earliest relevant evidence known to QI was published by an influential American newspaper columnist in 1943. 1 Intriguingly, the topic was osculation and not conjugation, and the advice-giver was Lucy Baldwin who was the wife of the former Prime Minister of the United Kingdom. Boldface has been added to excerpts: 2
Stanley Baldwin's son tells this story of the day his sister went out with a young man who wanted to marry her. She asked her mother for advice, in case the young man should want to kiss her . . . "Do what I did," said her mother, reminiscing of the beginning of her romance with the man who was to become Prime Minister, "Just close your eyes and think of England."
The ellipsis above was present in the original text. This citation was included in two key reference works from Yale University Press: "The Yale Book of Quotations" 3 and "The Dictionary of Modern Proverbs". 4
It is conceivable that this was a bowdlerized version of a more ribald tale, but QI has not yet located supporting evidence for that hypothesis. An alternative conjecture would hold that the carnal element of this story was modified and amplified over time.
In 1954 "Les Carnets du Major Thompson" was published in French by Pierre Daninos. The following year an English translation titled "The Notebooks of Major Thompson: An Englishman Discovers France & the French" was released in the U.S. The character portrayals in the volume emphasized humor. The French author Daninos asserted that the English character Ursula had been prepared "for marriage in an entirely Victorian spirit". The expression in the following passage was identical to the one used in the previous citation. Yet, the activity shifted from kissing to intimate coupling: 5
The day before she left home, Lady Plunkwell had delivered her final advice: "I know, my dear, it's disgusting. But do as I did with Edward: just close your eyes and think of England!" Like her mother and her mother's mother before her, Ursula closed her eyes. She thought of the future of England.
Here are additional selected citations in chronological order.
Continue reading Just Close Your Eyes and Think of England