Leonardo da Vinci? John H. Secondari? Apocryphal?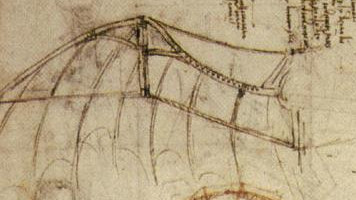 Dear Quote Investigator: The famous Renaissance figure Leonardo da Vinci has been given credit for a remark about the experience of flight:
Once you have tasted flight you will walk the earth with your eyes turned skyward.
How could Leonardo know something like this? I am skeptical of this ascription. Would you please explore this topic?
Quote Investigator: In 1965 an educational film titled "I, Leonardo da Vinci" with a script written by John H. Secondari was created. The audio track included the thoughts and ideas of Leonardo presented as exposition for the viewer. This speculative synthesized material was authored by Secondari based on biographical information about Leonardo's life. Professor Carlo Pedretti of the University of California, Los Angeles acted as the consultant historian. One scene in the film depicted Leonardo concluding that humans supplemented with bat-like wings would be able to fly:[1]1965 Copyright, Series: The Saga of Western Man, Film Title: I, Leonardo da Vinci, Film Writer: John H. Secondari, Film Producers: John H. Secondari and Helen Jean Rogers, Reel Number: 2, Quotation … Continue reading
I became convinced that man too can fly. I set out to build him wings. For the bird is a living machine as all living bodies are machines, marvelously designed for natural movement. The bird is adapted to the laws of the wind and the air. It moves effortlessly. It soars. It curves. It flows.
Secondari's fanciful version of Leonardo da Vinci dreams of constructing such wings and encouraging a novice flyer to jump off the edge of a precipice:
At the edge spring unafraid into the void. The current holds you. The earth stretches limitless below you. Be not afraid. Your wings are your salvation even should you plummet; the hurts will be slight, I know.

And once you have tasted flight you will walk the earth with your eyes turned skyward; for there you have been, and there you would return.
Researchers have been unable to find the quotation above in the writings of Leonardo; hence, it probably was constructed by Secondari. The words embodied Secondari's notion of Leonardo contemplating the wistful thoughts of an imaginary neophyte flyer who had successfully employed the wings he had sketched.
Below are additional selected citations in chronological order.
Continue reading Once You Have Tasted Flight You Will Walk the Earth With Your Eyes Turned Skyward
References

↑

1
1965 Copyright, Series: The Saga of Western Man, Film Title: I, Leonardo da Vinci, Film Writer: John H. Secondari, Film Producers: John H. Secondari and Helen Jean Rogers, Reel Number: 2, Quotation Timestamp: 16 minutes 20 seconds, Publisher: CRM Films 2215 Faraday Ave, Carlsbad. California. Summary: Explores Leonardo's intellectual and artistic interests and talents. Depicts the Renaissance period. (Internet Archive archive.org) link