Wilson Mizner? Samuel Thomas Hauser? Edward O. Wolcott? Silver Dick? Anonymous? Apocryphal?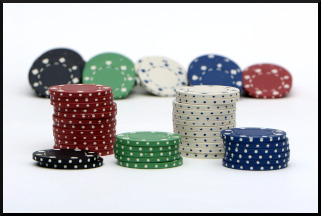 Dear Quote Investigator: A self-satisfied gambler once approached a poker table and asked to join the game. The dealer shook his head while saying, "This game is probably too big for you".
The irritated gambler placed ten large denomination bills on the table. There was a silence. The gambler said haughtily, "Is something wrong with my money?" The dealer counted the bills and said, "You may join us. Please give the gentleman one blue chip."
There are many variations of this anecdote. Different quantities of money are mentioned, and sometimes the chip is white. The punchline is typically delivered by adventurer, playwright, and rogue Wilson Mizner. Would you please explore this topic?
Quote Investigator: This tale is difficult to trace because the phrasing is highly variable. The earliest instance located by QI appeared in "The Minneapolis Tribune" of Minnesota in January 1890. The setting was the Silver Bow Club of Butte, Montana. The high-rolling millionaire participants were named Daly, Clark, Hogan, and Hauser. In this version, the eager individual was naïve and not arrogant. Emphasis added to excerpts by QI:[1] 1890 January 10, The Minneapolis Tribune, Heard About Town, Quote Page 4, Column 4, Minneapolis, Minnesota. (Newspapers_com)
"Give me a hundred dollars worth of chips," said he, slapping a crisp $100 bill upon the table.

Daly was running the bank. He sized up the bill and looked surprised, then looked across at Clark. Clark glanced at Hogan and Hogan took a side peep at Hauser. "Well, what's the matter gentlemen," said my friend, the tourist, with a bland smile, "ain't I in the game?"

There was a silent moment. "He wants to know if he's in the game," at length said Daly, turning helplessly to Hauser, who sat on his right.

"In the game," repeated the great mining king, "why of course he's in the game. Daly, give the gentleman a white chip."

After that you could not have kept that travelling man in the house with a lasso. In fact he left the town that night on the east bound freight, but he did not join the game.
Below are additional selected citations in chronological order.
Continue reading Give the Gentleman One White Chip
References

↑

1
1890 January 10, The Minneapolis Tribune, Heard About Town, Quote Page 4, Column 4, Minneapolis, Minnesota. (Newspapers_com)