Heidelberg Professor? Chairman of an Irish Company? Claude T. Bissell? Sean MacReamoinn? Walter Heller? Garret FitzGerald? Ernest Hollings? Anonymous?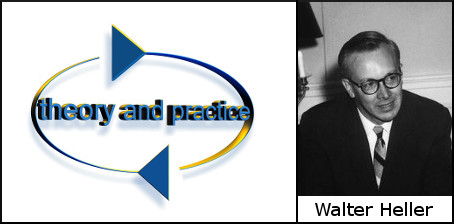 Quote Investigator: There is a fundamental distinction between theory and practice. Sometimes a strategy that should work based on theoretical considerations fails when implemented in practice. This insight has been comically twisted to generate the following quip:
That works very well in practice, but how does it work out in theory?
The speaker of the line above has commonly been identified as an economist. Would you please examine the history of this witticism?
Quote Investigator: The earliest strong match for this joke located by QI was published in a 1911 issue of a magazine titled "The Youth's Companion: For All the Family" which was based in Boston. Massachusetts. The humorous anecdote was set in Germany. Boldface has been added to excerpts: 1
A Professional Paradox.

The study of science is not necessarily all gray; it may have its rosy patches. It is said that a learned professor of Heidelberg forbade his students the repetition of a certain experiment.

"But," they protested, "it has always been successful."
"Nevertheless," he said, "its position among experiments is absolutely untenable from an intellectual point of view."
The boys stared.
"The thing may answer very well in practise," said the professor, "but it is not sound in theory."
In the following month the item above was further disseminated when it was reprinted in newspapers such as the "The Daily Herald" of Gulfport, Mississippi 2 and the "Springfield Daily News" of Springfield, Massachusetts. 3 This jest was not an exact match for the quip being explored, but later expressions would have been easily derivable from the tale either directly or indirectly.
Here are additional selected citations in chronological order.
Sometimes similar expressions have been employed with serious intent. The desire for a strong theoretical underpinning to support an established practical method has often been genuine. The following remark about statistical methods was printed in the "British Journal of Statistical Psychology" in 1948: 4
To be worth using, an item must be known to work well in practice, but it must also be sound and defensible against theoretical attack.
In 1951 "The New Statesman and Nation" of London published a cultural review by W. R. Rodgers which included the following tale containing a close match to the quotation: 5
I recall an incident at the board meeting of an Irish Company. The annual report was given, dividends were higher than ever before, and the gratified directors leaned forward to listen to their Chairman's summing-up. "Gentlemen," said he, with freezing satisfaction, "this is all very well in practice. But how does it work out in theory?"
In 1959 a magazine called "Varsity Graduate" which was aimed at the alumni of the University of Toronto published an article by Claude T. Bissell who was the president of the academic institution. Bissell recounted an episode that was comparable to the one presented in "The New Statesman and Nation": 6
There is a story that the chairman of an Irish company, on hearing the report on operations for the year, said: "That is all very well in practice, but how will it work out in theory?"
In 1972 the famous communication theorist Marshall McLuhan visited Dublin, Ireland and delivered a speech which the journalist of the "Irish Times" found difficult to understand. The newspaper report about the lecture included a comment about the response of one audience member: 7
The only humour was provided by someone who remembered Sean MacReamoinn's story from a radio programme earlier in the day: "It's all very well in practice. How is it in theory?"
In June 1979 "The Washington Star" newspaper of Washington D.C. printed a short item titled "Quotable" containing words ascribed to Walter W. Heller who was a prominent economist and advisor to U.S. Presidents Kennedy and Johnson: 8
"An economist is someone who says, when an idea works in practice, 'let's see if it works in theory.'"
— Walter W. Heller, former chairman of the Council of Economic Advisers.
In July 1979 a syndicated columnist presented a slightly different version of the quotation ascribed to Walter Heller: 9
Heller has his own definition of his breed: An economist is a man who, when he finds something works in practice, wonders if it works in theory.
In 1985 "The Irish Times" described an anecdote told by Anthony Joseph Francis O'Reilly who was a Dublin-based newspaper magnate. O'Reilly ascribed the quip to Garret FitzGerald who was the Taoiseach of Ireland, i.e., the leader of Ireland: 10
They laughed, too, when O'Reilly, with a superb imitation of Garret FitzGerald, gave his impression of a Cabinet meeting in which John Bruton came up with a brilliant idea to solve the balance of payments problem.

"That's a very good idea," said Garret. "I know it will work very well in practice, but tell me John, how will it work in theory?"
In 1988 a short item in "The Plain Dealer" of Cleveland, Ohio attributed the saying about economists to U.S. Senator Ernest Hollings: 11
"Economist: Someone who finds something in practice and wonders if it will work in theory." — Ernest Hollings
In 2011 the obituary of Garret FitzGerald was published in "The New York Times", and an instance of the saying was credited to the Irish politician: 12
Mr. FitzGerald was recognized as a shrewd, nuts-and-bolts economist. But he was also perceived as sort of an absent-minded professor, given to making memorable remarks. He once said of an idea, "That's fine in practice, but will it work in theory?"
In 2015 an Assistant Professor of Finance at Stony Brook University wrote an opinion piece at the BloombergView website, and he began with an instance of the quip: 13
"It works in practice, but does it work in theory?" This joke is so commonly applied to economists that no one even knows who said it originally. The idea fits with the stereotype of economists as out-of-touch theory-obsessed philosophers, wasting time arguing about what would happen in a made-up world of their own devising, while all around them the real world unfolds in ways that are totally different.
In conclusion, this quip evolved over many decades, and its originator was anonymous. Instances have been popularized by W. R. Rodgers, Claude T. Bissell, Sean MacReamoinn, Walter Heller, and others.
Image Notes: Graphic of theory and practice from geralt on Pixabay. Public domain picture of Walter Heller from the digital archive of the John F. Kennedy Library. Cropped image from a photo showing John F. Kennedy, Ludwig Erhard of West Germany, and Walter Heller. Accession Number: AR6966-B.
(Great thanks to Joe McCarthy whose inquiry led QI to formulate this question and perform this exploration. McCarthy also pointed to the 2015 article at BloombergView. Special thanks to Barry Popik who performed valuable research on the version of the expression about economists.)