Ray Bradbury? Apocryphal?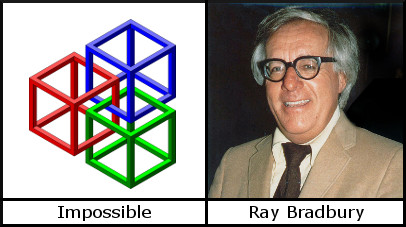 Dear Quote Investigator: On Facebook I saw the following quotation displayed on a star-filled picture:
We are an impossibility in an impossible universe
The words were attributed to the prominent science fiction author Ray Bradbury, but I haven't been able to find a citation. Would you please help?
Quote Investigator: In January 1975 "The Oregonian" newspaper of Portland, Oregon published a column that reviewed television and radio programs. The public television station KOAP-TV had recently broadcast a program called "Assignment America" hosted by the well-known poet Maya Angelou with Ray Bradbury as guest. Boldface has been added to excerpts: 1
Bradbury told her, "We are on the moon today because of one man and only one man and that's Edgar Rice Burroughs. His John Carter, 'Warlord of Mars,' romanced a whole generation of boys into going out and building the equipment to go to the moon." Bradbury was fittingly interviewed in Hollywood's Magic Castle. "We're an impossibility in an impossible universe," he said. "There's really no split between science and religion. When facts stop, faith has to take over."
Here are additional selected citations in chronological order.
The website of the "American Archive of Public Broadcasting" included a description of a program in the "Assignment America" series that matched the information above, but QI has not seen this program: 2
Assignment America #104
Episode: Ray Bradbury: The Fantasy Maker

The man often considered the best living science-fiction writer was interviewed by Maya Angelou with talk centering on abstract concepts of the relationship between science, religion and magic.
In 1980 a compilation called "The Quotable Quotations Book" included the saying with a citation that pointed to a different program broadcast in 1975: 3
We are an impossibility in an impossible universe.
RAY BRADBURY, "World Hunger," PBS, Jan. 27, 1975
In 1986 "The Frederick Post" of Frederick, Maryland printed the quotation in the top right corner of the front page beneath a daily greeting: 4
Good morning!
We are an impossibility in an impossible universe.
— Ray Bradbury
In 1997 "The Tampa Tribune" of Tampa, Florida published a set of quotations with the universe as a theme. Here were three: 5
Woody Allen: "I'm astounded by people who want to "know' the universe when it's hard enough to find your way around Chinatown."

Ray Bradbury: "We are an impossibility in an impossible universe."

Edward Chilton: "I'm worried that the universe will soon need replacing. It's not holding a charge."
In conclusion, there is substantive evidence that Ray Bradbury did speak this quotation while being interviewed by Maya Angelou in 1975. The evidence comes from a contemporary newspaper account, and QI has not yet seen the interview.
Image Notes: Picture of Ray Bradbury. Photo by Alan Light; licensed under Creative Commons Attribution 2.0 Generic. Illustration of impossible cubes from OpenClipartVectors at Pixabay.
(Great thanks to mille stelle whose inquiry led QI to formulate this question and perform this exploration.)