Edgar Allan Poe? Germaine de Staël? Bert Leston Taylor? Charles A. Dana? Anonymous?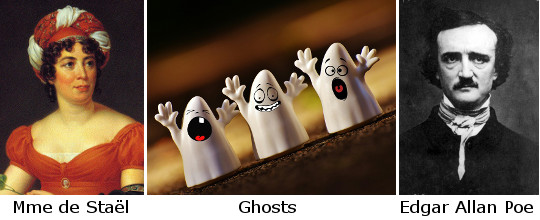 Dear Quote Investigator: There is a family of quips that express a comically contradictory attitude toward specters. Here are three instances:
I do not believe in ghosts, but I am awfully afraid of them.
I don't believe in ghosts, but I've been running from them all my life.
I don't believe in ghosts, but I don't want to see one.
The master of the macabre Edgar Allan Poe sometimes has received credit for the second statement. Would you please explore this group of jokes for Halloween?
Quote Investigator: There is no substantive evidence that Edgar Allan Poe employed one of these quips.
Germaine de Staël was an author and influential French intellectual who died in 1817. The physician Sir Henry Holland met Madame de Staël on multiple occasions and dined with her; in 1872 he published a memoir titled "Recollections of Past Life" which included a quotation from de Staël in French about revenants, i.e., ghosts. Emphasis added to excerpts by QI: 1
Another trait she discloses, speaking of les revenants: 'Je n'y crois pas, mais je les crains.'
Here is one possible translation of the French:
'I do not believe, but I'm afraid.'
When Holland's book was reviewed in "The London Quarterly Review" 2 and "Blackwood's Edinburgh Magazine" 3 the remark from Madame de Staël was reprinted which widened its distribution.
Also in 1872 the notable writer and conversationalist Oliver Wendell Holmes Sr. published "The Poet at the Breakfast-Table" in which he presented a slightly different version of the quotation and ascribed the words to an unnamed "famous woman": 4
We are all tattoed in our cradles with the beliefs of our tribe; the record may seem superficial, but it is indelible. You cannot educate a man wholly out of the superstitious fears which were early implanted in his imagination; no matter how utterly his reason may reject them, he will still feel as the famous woman did about ghosts, Je ne les crois pas, mais je les crains, — "I don't believe in them, but I am afraid of them, nevertheless."
Below are additional selected citations in chronological order.
In 1878 a medical treatise on hallucinations titled "Visions: a Study of False Sight (Pseudopia)" by Edward H. Clarke M.D. included a case study with testimony from a woman who referenced an English version of the statement of Madame de Staël: 5
My earliest recollections are of a life made miserable by the daily companionship of a crowd of dreadful beings, visible, I know, only to myself. Like Madame de Staël, I did not believe in ghosts, but feared them mortally. When I was about fifteen, we went to Europe for two years, and the change of scene, and of constant external interest, broke up my invisible world, and I have only entered it since in times of excitement or great fatigue.
When "The Edinburgh Medical Journal" reviewed Clarke's book, the statement about ghosts in the excerpt above was reprinted and achieved wider dissemination. 6
In 1883 a journalist working for the "New-York Tribune" was stopped by a policeman late at night in Central Park. The gift of a cigar elicited tales of the park from the constable: 7
There is a clump of trees right near the Mall where three men shot themselves in two days. We call it 'Suicides' Hollow,' and some of us cuts shy of it now. No, I don't believe in ghosts, but I don't want to see one.
In 1890 "The Philadelphia Inquirer" of Philadelphia, Pennsylvania, 8 "The Daily Inter Ocean" of Chicago, Illinois, and other newspapers printed a short filler item containing a dialogical instance of the remark: 9
Mme. de Stael, the wittiest woman who was ever known in literature, was speaking once on the subject of ghosts. "Do you believe in ghosts?" she was asked. "No," she replied, "but I am awfully afraid of them."
In 1898 a Freemason publication examined "The Book of Dreams and Ghosts" by Andrew Lang, and the reviewer referred to the quotation: 10
It was Madame de Staehl, we think, who on being asked if she believed in ghosts, replied, "No, but I am awfully afraid of them." This would seem to be Mr. Lang's attitude in regard to the subject he treats in a most interesting manner. He nowhere expresses his own belief in ghosts, but he presents numerous well authenticated stories favoring their reality.
In 1911 "Knowledge: A Monthly Record of Science" published an article by J. Arthur Hill. 11 A couple months later the piece was reprinted in "Scientific American" under the title "Psychical Research: The Attack of Modern Science on the Realm of Occultism". The author began the article with an instance of the quotation: 12
It is related of Mme. de Staël that she did not believe in ghosts, but that she was afraid of them all the same—"je ne les crois pas, mais je les crains." The witty Frenchwoman's epigram contains deep psychological truth; for our emotions are not ruled by our reasoned beliefs.
In 1919 a columnist named Bert Leston Taylor in "The Chicago Daily Tribune" 13 spoke skeptically about the "gift of healing" and ascribed an instance of the joke to a famous newspaper editor named Charles A. Dana who had died many years earlier in 1897. The same column appeared in "The Boston Herald": 14
One may believe that the "gift of healing" is nothing more than the application of imaginary balm to non-existent disease, but if one says so he gets into a jolly row with people who consider an open mind synonymous with credulity. Our own state of mind was accurately described by Charles A. Dana: "I don't believe in ghosts," said he, "but I've been afraid of them all my life."
In 1922 Bert Leston Taylor published "The So-Called Human Race", and the excerpt above with the words ascribed to Dana was reprinted in the work. 15
In 1940 an article in "Esquire" magazine referenced the words ascribed to Dana: 16
Do you believe in vitamins? Paraphrasing Charles A. Dana's comment on ghosts, neither do I but I have been afraid of them all my life; or, at any rate ever since it was first published that food should contain vitamins.
In 2006 a correspondent for the cable news network CNN spoke to an unidentified man who implausibly credited Edgar Allan Poe with a humorous statement: 17
DAS: Reporter: Even Kelly, a self-professed skeptic admits if there's anyplace that would be haunted it would be here.

UNIDENTIFIED MALE: There's that quote from Edgar Allan Poe where he says, I don't believe in ghosts, but I've been running from them all my life.
In 2008 a message from the twitter handle "alternativereel" credited Poe with a variant: 18
"I don't believe in ghosts but they have been chasing me my whole life." – Edgar Allan Poe.
In conclusion, Germaine de Staël may be credited with the quotation in the 1872 book by Sir Henry Holland although the probative value of the evidence is weakened by its late appearance. The saying evolved to yield multiple versions in English. The remark ascribed to Charles A. Dana probably was derived directly or indirectly from the 1872 statement. The remarks ascribed to Edgar Allan Poe appeared long after the death of the well-known writer.
Image Notes: Portrait of Madame de Staël (Anne Louise Germaine de Staël-Holstein) circa 1810; accessed via Wikimedia Commons. Three ghosts from Alexas_Fotos at Pixabay. Daguerreotype of Edgar Allan Poe taken by Edwin H. Manchester circa 1848.
(Great thanks to Sara O'Leary whose inquiry led QI to formulate this question and perform this exploration.)