Edgar Allan Poe? Germaine de Staël? Bert Leston Taylor? Charles A. Dana? Anonymous?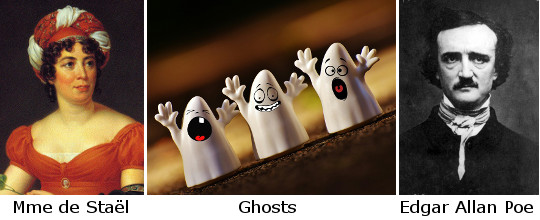 Dear Quote Investigator: There is a family of quips that express a comically contradictory attitude toward specters. Here are three instances:
I do not believe in ghosts, but I am awfully afraid of them.
I don't believe in ghosts, but I've been running from them all my life.
I don't believe in ghosts, but I don't want to see one.
The master of the macabre Edgar Allan Poe sometimes has received credit for the second statement. Would you please explore this group of jokes for Halloween?
Quote Investigator: There is no substantive evidence that Edgar Allan Poe employed one of these quips.
Germaine de Staël was an author and influential French intellectual who died in 1817. The physician Sir Henry Holland met Madame de Staël on multiple occasions and dined with her; in 1872 he published a memoir titled "Recollections of Past Life" which included a quotation from de Staël in French about revenants, i.e., ghosts. Emphasis added to excerpts by QI: 1
Another trait she discloses, speaking of les revenants: 'Je n'y crois pas, mais je les crains.'
Here is one possible translation of the French:
'I do not believe, but I'm afraid.'
When Holland's book was reviewed in "The London Quarterly Review" 2 and "Blackwood's Edinburgh Magazine" 3 the remark from Madame de Staël was reprinted which widened its distribution.
Also in 1872 the notable writer and conversationalist Oliver Wendell Holmes Sr. published "The Poet at the Breakfast-Table" in which he presented a slightly different version of the quotation and ascribed the words to an unnamed "famous woman": 4
We are all tattoed in our cradles with the beliefs of our tribe; the record may seem superficial, but it is indelible. You cannot educate a man wholly out of the superstitious fears which were early implanted in his imagination; no matter how utterly his reason may reject them, he will still feel as the famous woman did about ghosts, Je ne les crois pas, mais je les crains, — "I don't believe in them, but I am afraid of them, nevertheless."
Below are additional selected citations in chronological order.
Continue reading I Do Not Believe in Ghosts, But I Am Awfully Afraid of Them