Oscar Wilde? Felix Unger? Tony Randall? John Glick? Clarence L. Lollar? Dick West? Anonymous?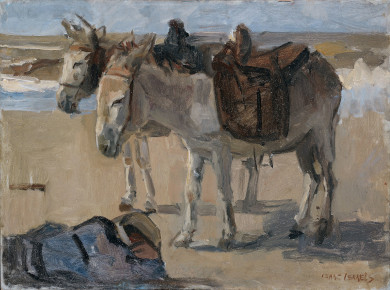 Dear Quote Investigator: Making unfounded assumptions causes endless difficulties. A clever quip highlighting this problem is based on splitting a word into three parts:
It is dangerous to assume because you might make an "ass" out of "u" and "me".
This joke was told in a episode of the popular television sitcom "The Odd Couple" in 1973. Did the authors of the teleplay create this joke?
Quote Investigator: The earliest match located by QI appeared in a 1957 advertisement published in an Espanola, New Mexico newspaper. The advertiser was an automobile insurance provider called the Horace DeVargas Agency, but QI believes the joke was already in circulation, and the attribution should be anonymous. Boldface added to excerpts: 1
. . . I urge you, as a driver, to observe the rules of traffic and highway safety in the operation of your car.

Don't ass-u-me anything, when you drive because, you'll make an ass of u and me—ass-u-me.
Below are additional selected citations in chronological order.
In 1958 the fashion magazine "Women's Wear Daily" described a blackboard used for training people at the J. W. Robinson Company. The words "Get Facts, Don't Assume" were written on the board: 2
John Glick, store manager, uses this frequently in his managerial training program. "Get facts," he says, "Don't Assume. Because when you do you make an ASS of U and ME."
In 1964 "Combat Crew: Strategic Air Command" printed an editorial by Colonel Clarence L. Lollar who repeated some emphatic advice he was given by his commander: 3
Mister, when you have an important job to do never assume. When you look at the word you can see it is made up of three parts—ass u and me. When you rely on assumptions, sooner or later it will make an ass of both of us.
In 1966 a Redlands, California newspaper printed a column containing a lesson from news editor Dick West: 4
"Do you know what happens when a newspaper reporter assumes the accuracy of something he should have checked? He makes an ass out of you and me. Here, I'll show you."

He then takes pencil in hand, and writes "assume", to be read aloud, as follows: "ASS-U-ME."
In 1973 the television series "The Odd Couple" included the joke within an episode titled "My Strife in Court". 5 The character Felix Unger played by Tony Randall wrote the word "ASSUME" on a blackboard, and he delivered the punchline while circling "ASS", "U", and "ME" in sequence: 6
Miss Olem, you should never assume because when you assume you make an ass of you and me.
In 2011 the book "Affiliate Program Management: An Hour a Day" implausibly assigned the quip to the famous wit Oscar Wilde who died in 1900: 7
Remember Oscar Wilde's words, "When you assume, you make an ass out of u and me."
In 2012 the important reference work "The Dictionary of Modern Proverbs" included an entry for this saying with illustrative citations beginning in 1975. 8
In conclusion, the earliest instance located by QI appeared in the advertising copy of an automobile insurance company in 1957. QI doubts that the joke was crafted by this particular copywriter. Thus, QI suggest that the attribution remains anonymous. Also, the ascription to Oscar Wilde is unsupported.
Image Notes: Public domain image of a painting of "Two donkeys" by Isaac Israels circa 1901. Image has been resized.
(Great thanks to Lee Spilberg whose inquiry led QI to formulate this question and perform this exploration. Spilberg told QI about the episode of "The Odd Couple" containing the joke. Also, thanks to mailing list discussants Jim Landau, Barry Popik, Laurence Horn, Dave Wilton, and John Baker.)