Eleonora Duse? John Martin Harvey? Eva Le Gallienne? Apocryphal?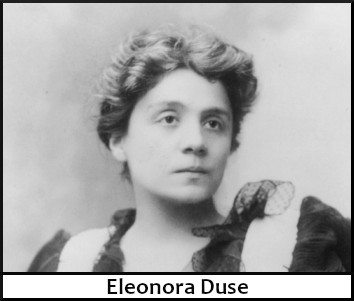 Dear Quote Investigator: The prominent Italian actress Eleonora Duse believed that the joyful appreciation of nature provided evidence of a vivacious soul. She highlighted the simple beauty inherent in blue skies and blades of grass. Would you please help me to find a citation.
Quote Investigator: English stage actor John Martin Harvey delivered a lecture titled "Character and the Actor" before the Ethological Society in London, and the text was printed in pamphlet form in 1908 by a publisher based in Florence, Italy. Harvey quoted the famous Italian thespian:[1]1908, Character and the Actor by J. Martin Harvey, A Lecture Delivered Before the Ethological Society, Quote Page 23, For Sale at D. J. Rider, London; Published by "The Mask" Press; Arena … Continue reading
There seems a subtle truth in Eleonora Dusé's words, when she says:—

"If the sight of the blue skies fills you with joy, if a blade of grass springing up in the fields has power to move you, rejoice, for your soul is alive; and then aspire to learn that other truth—that the least of what you receive can be divided. To help and share—that is the sum of all knowledge, that is the meaning of art."
Harvey popularized this quotation, and its accuracy depends on his veracity. Duse was an international star who appeared in Paris, London, and New York; however, she always preferred to speak Italian during her performances. Thus, QI conjectures that the original quotation was in Italian.
Below are additional selected citations in chronological order.
Continue reading If the Sight of the Blue Skies Fills You With Joy . . . Rejoice, for Your Soul Is Alive