James B. Conant? Atomic Scientist? Anonymous Cartoonist? Leslie Groves? G. B. Carter? P. C. Keith?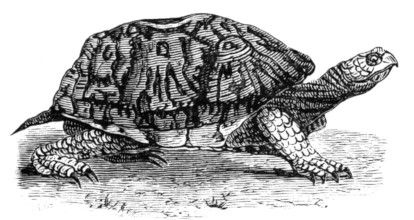 Dear Quote Investigator: Making headway in life requires taking significant risks. This thought has been presented with a homespun aquatic analogy. Here are three versions:
Behold the turtle! He makes progress only when his neck is out.
Behold the turtle. He only makes progress when he sticks his neck out.
Behold the turtle. He must stick his neck out if he's ever to get anywhere.
This saying has been credited to James B. Conant, a chemist who was the President of Harvard University from 1933 to 1953. Would you please explore this topic?
Quote Investigator: James B. Conant did employ this motto during a speech in 1949, but he did not take credit; instead, he attributed the expression to unnamed atomic scientists.
Evidence in 1945 indicates that the saying was circulating amongst the scientists and administrators of the Manhattan Project which produced the first nuclear weapons. The program began in 1942 and was disbanded in 1947.
On October 13, 1945 "Collier's Weekly" published a piece about Major General Leslie R. Groves who directed the Manhattan Project. The single word "Manhattan" was used in the article as a synecdoche for the project. The article claimed that the adage appeared as a caption of a picture that was affixed to the wall of an office that was used by participants in the project. Boldface added to excerpts by QI:[1] 1945 October 13, Collier's Weekly, The Man Who Made Manhattan by Robert de Vore, Start Page 12, Quote Page 13, Column 1, The Crowell-Collier Publishing Company, Springfield, Ohio. (Unz)
On the wall of one of Manhattan's offices in Washington is a drawing of a turtle, head strained forward and trying hard to get up speed. Beneath the drawing are the words: "Behold the turtle! He makes progress only when his neck is out." That is one of several reminders in Manhattan's Washington offices that everyone from Groves down was expected to keep his neck out regardless of the consequences.
The article does not reveal the identity of the creator of the picture. So the ascription remains anonymous. The originator appears to have been a member of the Manhattan Project. A few years later James B. Conant helped to popularize the expression.
Below are additional selected citations in chronological order.
Continue reading Behold the Turtle. He Makes Progress Only When His Neck Is Out
References

↑

1
1945 October 13, Collier's Weekly, The Man Who Made Manhattan by Robert de Vore, Start Page 12, Quote Page 13, Column 1, The Crowell-Collier Publishing Company, Springfield, Ohio. (Unz)