Elbert Hubbard? H.C. Peters? Leonard Bernstein?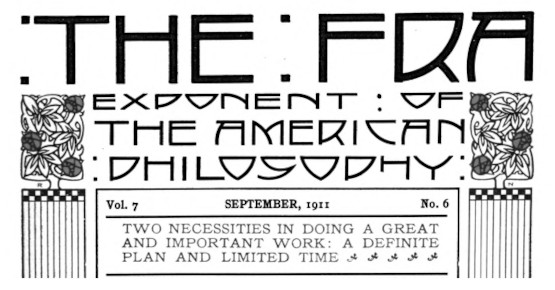 Dear Quote Investigator: Dreaming about accomplishing a vaguely defined magnificent task at some unknown future date is unhelpful. True progress is made by formulating a plan and adopting a clear deadline. This notion has been attributed to U.S. publisher Elbert Hubbard and U.S. composer Leonard Bernstein. Would you please explore this topic.
Quote Investigator: Aphorist Elbert Hubbard edited and published a journal called "The Fra" for an artisan community in East Aurora, New York. The September 1911 issue featured the following epigraph. Boldface added to excerpts by QI: 1
TWO NECESSITIES IN DOING A GREAT AND IMPORTANT WORK: A DEFINITE PLAN AND LIMITED TIME
The journal issue included a short article by H.C. Peters that elaborated on this adage: 2
If I were trying to condense in a few words the best plan for efficient action, I would say: Have a definite thing to do and a limited time to do it. About fifty per cent of the people engaged in business never reach the point where they set their minds on doing some one definite thing . . .

It is left for the men who decide on a definite thing to do within a limited time, to keep the wheels of progress moving.
Apparently, H.C. Peters developed the core idea, and Elbert Hubbard crafted and popularized a concise statement. Alternatively, Hubbard constructed the adage, and he next asked Peters to write on the subject.
The saying evolved over time, and it was reassigned to Leonard Bernstein by 2002. Yet, Bernstein died in 1990; hence, the current evidence supporting this attribution is rather weak.
Below are additional selected citations in chronological order.
Continue reading Two Necessities In Doing a Great and Important Work: A Definite Plan and Limited Time
Notes:
1911 September, The Fra, Volume 7, Number 6, (Epigraph on title page), Quote Page 161, Elbert Hubbard and The Roycrofters, East Aurora, New York. (Google Books Full View) link ↩