Dwight D. Eisenhower? Winston Churchill? Richard M. Nixon? Helmuth von Moltke? Mike Tyson? Anonymous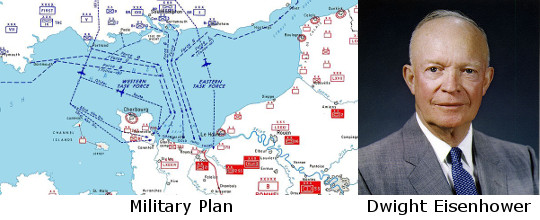 Dear Quote Investigator: The World War II leader and U.S. President Dwight D. Eisenhower apparently made a paradoxical statement about preparation. Here are two versions:
1) Plans are useless, but planning is indispensable.
2) Plans are worthless, but planning is essential.
Would you please explore the origin of this saying?
Quote Investigator: In 1950 Dwight Eisenhower wrote a letter to a U.S. diplomat in which he ascribed a military-oriented version of the saying to an anonymous soldier. Emphasis added to excerpts by QI:[1]1984, The Papers of Dwight David Eisenhower, Volume XI: Columbia University, Editor Louis Galambos et al, Letter from: Dwight Eisenhower, Letter to: Hamilton Fish Armstrong, Date: December 31, 1950, … Continue reading
. . . I always remember the observation of a very successful soldier who said, "Peace-time plans are of no particular value, but peace-time planning is indispensable."
During a speech in November 1957 Eisenhower employed the saying again. He told an anecdote about the maps used during U.S. military training. Maps of the Alsace-Lorraine area of Europe were used during instruction before World War I, but educational reformers decided that the location was not relevant to American forces. So the maps were switched to a new location within the U.S. for planning exercises. A few years later the military was deployed and fighting in the Alsace-Lorraine:[2]1958, Public Papers of the Presidents of the United States, Dwight D. Eisenhower, 1957, Containing the Public Messages, Speeches, and Statements of the President, Remarks at the National Defense … Continue reading
I tell this story to illustrate the truth of the statement I heard long ago in the Army: Plans are worthless, but planning is everything. There is a very great distinction because when you are planning for an emergency you must start with this one thing: the very definition of "emergency" is that it is unexpected, therefore it is not going to happen the way you are planning.
The details of a plan which was designed years in advance are often incorrect, but the planning process demands the thorough exploration of options and contingences. The knowledge gained during this probing is crucial to the selection of appropriate actions as future events unfold.
Below are additional selected citations in chronological order.
Continue reading Plans Are Worthless, But Planning Is Everything
References

↑

1
1984, The Papers of Dwight David Eisenhower, Volume XI: Columbia University, Editor Louis Galambos et al, Letter from: Dwight Eisenhower, Letter to: Hamilton Fish Armstrong, Date: December 31, 1950, Start Page 1516, Quote Page 1516, Johns Hopkins University Press, Baltimore, Maryland. (Verified with hard copy)

↑

2
1958, Public Papers of the Presidents of the United States, Dwight D. Eisenhower, 1957, Containing the Public Messages, Speeches, and Statements of the President, Remarks at the National Defense Executive Reserve Conference, Date: November 14, 1957, Start Page 817, Quote Page 818, Published by the Federal Register Division, National Archives and Records Service, General Services Administration, Washington D.C. (HathiTrust Full View) link