Winston Churchill? Jack Fishman? Apocryphal?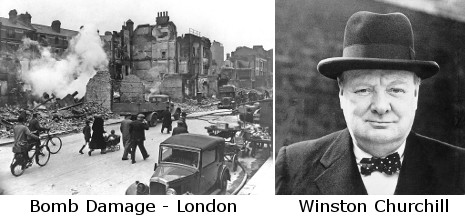 Dear Quote Investigator: Here is a mystifying question for you. Winston Churchill has been credited with crafting two nearly identical quotations beginning as follows:
1) Do not let specious plans …
2) Do not let spacious plans …
The two expressions differed by a single word: specious/spacious. Did Churchill utter or write either of these quotations?
Quote Investigator: There is evidence that Churchill wrote both of these quotations. In 1950 he released a book titled "The Grand Alliance" which was part of his multi-volume history of World War II. He included an appendix reprinting "Prime Minister's Personal Minutes and Telegrams". After he had examined the damage to buildings caused by bombing he sent a message in June 1941 to the Minister for Works and Buildings, Churchill emphasized the goal of repairing structures that could be made habitable. Boldface has been added to excerpts: 1
I continue to see great numbers of houses where the walls and roofs are all right, but the windows have not been repaired, and which are consequently uninhabitable. At present I regard this as your Number 1 war task. Do not let spacious plans for a new world divert your energies from saving what is left of the old.
In 1974 a posthumous collection of writings ascribed to Winston Churchill was published under the title "If I Lived My Life Again". The compiler and editor was Jack Fishman who stated that his sources included magazines, newspapers, speeches, unpublished texts, and personal discussions. Unfortunately, Fishman did not provide precise notes for the provenance of chapters in the book, and some pieces were mosaics from different sources. Chapter 15 was titled "Wise Heads and Young Shoulders" and contained the following: 2
To youth I say – It must be world anarchy or world order. Do not let specious plans for a new world divert your energies from saving what is left of the old.

The oldest habit in the world for resisting change is to complain that unless the remedy to the disease can be universally applied it should not be applied at all. But you must begin somewhere.
Here are additional selected citations in chronological order.
Continue reading Do Not Let Spacious Plans for a New World Divert Your Energies from Saving What Is Left of the Old
Notes:
1950, The Second World War: The Grand Alliance by Winston S. Churchill, Appendix C, Book One: Prime Minister's Personal Minutes and Telegrams: January to June 1941, Message from Prime Minister to Minister for Works and Buildings (also Minister of Health), Date: January 6, 1941, Quote Page 722 and 723, Houghton Mifflin Company, Boston, Massachusetts. (Verified on paper) ↩
1974, If I Lived My Life Again Winston S. Churchill, Compiled and edited by Jack Fishman, Chapter 15: Wise Heads and Young Shoulders, Start Page 179, Quote Page 183, Publisher by W. H. Allen, London. (Verified on paper) ↩