Ralph Waldo Emerson? Nike Advertisement? Janet Champ? Charlotte Moore? Wieden & Kennedy? Pam Finger?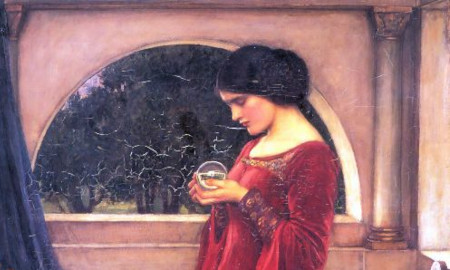 Dear Quote Investigator: Some people fear that their genes or social circumstances will restrict their life options and push them inexorably toward a foreordained destiny. An inspirational message presents a radically different viewpoint:
The only person you are destined to become is the person you decide to be.
This notion has been credited to transcendental philosopher Ralph Waldo Emerson, but I am skeptical of this attribution because I have never seen a solid citation. Would you please explore this topic?
Quote Investigator: The earliest match located by QI appeared in the advertising copy for a campaign launched by the footwear and apparel company Nike. A four-page spread appeared in the October 1991 issue of "Vogue" magazine. The ad text began with the following statement:[1] 1991 October, Vogue, Volume 181, Issue 10, (Nike Advertisement), Start Page 206, Quote Page 207, Condé Nast, New York. (ProQuest)
YOU DO NOT HAVE TO BE YOUR MOTHER UNLESS SHE IS WHO YOU WANT TO BE.
The ad text also included the target quotation:
SO IF YOU INHERIT SOMETHING, INHERIT THEIR STRENGTH. IF YOU INHERIT SOMETHING, INHERIT THEIR RESILIENCE. BECAUSE THE ONLY PERSON YOU ARE DESTINED TO BECOME IS THE PERSON YOU DECIDE TO BE.
The same advertisement appeared in other periodicals such as the December 1991 issue of "Cosmopolitan" magazine.[2] 1991 December, Cosmopolitan, Volume 211, Issue 6, (Nike Advertisement), Start Page 120, Quote Page 121, Hearst Communications, New York. (ProQuest)
In 1992 a brief piece in the "USA Weekend" newspaper section examined the question of who created the advertising campaign for Nike:[3] 1992 October 17, The Republic, Section: USA Weekend, Who's News by Lorrie Lynch, Quote Page 2, Column 1, Columbus, Indiana. (Newspapers_com)
Women, of course. Janet Champ and Charlotte Moore of the Portland, Ore.-based ad firm Wieden & Kennedy created the print ads — which men probably don't get. "The only intention" of the campaign, which has won national awards, "is to empower women to be whatever they want," Moore says. "And to make them feel good about being female."
Below are additional selected citations in chronological order.
Continue reading The Only Person You Are Destined To Become Is the Person You Decide To Be
References

↑

1
1991 October, Vogue, Volume 181, Issue 10, (Nike Advertisement), Start Page 206, Quote Page 207, Condé Nast, New York. (ProQuest)

↑

2
1991 December, Cosmopolitan, Volume 211, Issue 6, (Nike Advertisement), Start Page 120, Quote Page 121, Hearst Communications, New York. (ProQuest)

↑

3
1992 October 17, The Republic, Section: USA Weekend, Who's News by Lorrie Lynch, Quote Page 2, Column 1, Columbus, Indiana. (Newspapers_com)