Ralph Waldo Emerson? Apocryphal?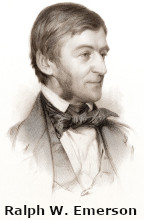 Dear Quote Investigator: Anxiety and self-doubt can sabotage one's attempts to achieve success. The transcendentalist philosopher Ralph Waldo Emerson said: Self-trust is the first secret of success.
Would you please help me to find a citation?
Quote Investigator: In 1870 Ralph Waldo Emerson collected a set of his essays under the title "Society and Solitude: Twelve Chapters". The essay on "Success" contained the following advice. Emphasis added to excerpts by QI: 1
Self-trust is the first secret of success, the belief that, if you are here, the authorities of the universe put you here, and for cause, or with some task strictly appointed you in your constitution, and so long as you work at that you are well and successful. It by no means consists in rushing prematurely to a showy feat that shall catch the eye and satisfy spectators. It is enough if you work in the right direction.
Below are additional selected citations in chronological order.