Maya Angelou? Nathaniel Hawthorne? Thomas Hood? Richard Brinsley Sheridan? Charles Allston Collins? Anthony Trollope? Lord Byron? William Makepeace Thackeray? Anonymous?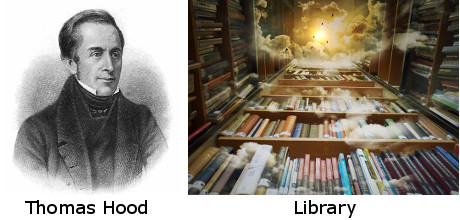 Dear Quote Investigator: Writers should strive to create texts that are informative, interesting, stimulating, and readable. But one of my favorite sayings reveals that this can be a remarkably difficult task:
Easy reading is damned hard writing.
I thought this adage was coined by the prominent author Maya Angelou, but recently I learned that she credited Nathaniel Hawthorne. Would you please explore this statement?
Quote Investigator: This topic is complicated by the existence of two complementary statements that are often confused. Many different versions of these statements have circulated over the years. Here are two expository instances:
1) Easy writing results in hard reading.
2) Easy reading requires hard writing.
An extended discussion of the first maxim is available under the title "Easy Writing's Vile Hard Reading" located here. This entry will focus on the second maxim.
The earliest evidence of a strong match located by QI appeared in the London periodical "The Athenaeum" in 1837. The humorist, poet, and essayist Thomas Hood wrote a letter to the editor which was printed under the title "Copyright and Copywrong". Hood commented on the process of writing. In the original text the word "damned" was partially censored to yield "d__d". Boldface has been added to excerpts: 1
And firstly, as to how he writes, upon which head there is a wonderful diversity of opinions; one thinks that writing is "as easy as lying," and pictures the author sitting carefully at his desk "with his glove on," like Sir Roger de Coverley's poetical ancestor. A second holds that "the easiest reading is d__d hard writing," and imagines Time himself beating his brains over an extempore.
Hood placed the adage between quotation marks suggesting that it was already in use. In fact, variant statements containing the phrases "hard reading" and "easy writing" were already being disseminated, and the expression probably evolved from those antecedents. Hence, apportioning credit for the formulation of this maxim is a difficult task.
Here are additional selected citations in chronological order.
An important precursor of the saying under investigation appeared in the poem "Clio's Protest or, the Picture Varnished" by the influential Irish poet and playwright Richard Brinsley Sheridan. This poem was distributed by 1772. The word "show" was spelled "shew" in the following excerpt: 2
You write with ease, to shew your breeding;
But easy writing's vile hard reading.
The meaning of the maxim in the couplet above certainly differed from the expression employed by Hood. The pairing of the words "reading" and "writing" was swapped. Also, Hood used "easiest" instead of "easy". Nevertheless, QI believes that the existence of Sheridan's couplet facilitated the emergence of the later saying from Hood. Indeed, some individuals have misremembered the words of Sheridan and credited him with the second maxim.
Another important precursor appeared in the 1818 poem "Beppo, A Venetian Story" by the famous romantic poet Lord Byron. In the following excerpt Byron lamented that he had not acquired "the art of easy writing": 3
Oh that I had the art of easy writing
What should be easy reading!
Lord Byron has been credited with both of the numbered maxims, and QI believes that the lines above were probably the source of the confusion. Byron used the phrases "easy reading" and "easy writing", but he did not mention "hard reading" or "hard writing".
As noted previously, in 1837 a letter from Thomas Hood was published that included the earliest matching instance of the second maxim:
A second holds that "the easiest reading is d__d hard writing," and imagines Time himself beating his brains over an extempore.
Hood's statement was further disseminated in 1837 when his letter was excerpted in a weekly compilation called "Waldie's Select Circulating Library" based in Philadelphia, Pennsylvania. 4
In 1845 "Douglas Jerrold's Shilling Magazine" printed a book review that included an instance of the saying without attribution: 5
It is a work that the most cultivated may read with advantage, who will be delighted with its skill and taste; and if easy reading is hard writing, we are exceedingly obliged to the author, for anything easier and more skilfully graceful on such knotty subjects it has seldom, if ever, been our lot to peruse.
In 1848 a text titled "The Satires and Epistles of Horace: With Notes and Excursus" by Thomas Keightley included an instance without ascription: 6
They objected to the light and careless flow of his verses as a fault, forgetting that easy reading is usually very hard writing.
In 1849 a history book by the famous philosopher David Hume was reviewed in the pages of "Graham's American Monthly Magazine" and the evaluation was very favorable. The reviewer complimented the text by using an oddly garbled version of the maxim which was attributed to Sheridan: 7
"Easy writing," said Sheridan, "is cursed hard writing." The easy style of Hume is an illustration. The reader, at the end, feels that he has been keeping company with a great man, gifted with an extraordinary grasp and subtlety of mind, but during the journey he thought he was but chatting with an agreeable and intelligent familiar companion.
In 1851 a book reviewer in the "Daily National Intelligencer" of Washington D.C. employed an instance when discussing a book by a journalist. The maxim was ascribed to an archetypal schoolboy: 8
His readers have little appreciation of the labor expended on these articles, which seem to come off trippingly at the end of his flowing pen; but, should they attempt an imitation, they will have reason to say, with the schoolboy, "easy reading is darned hard writing."
The linkage of the adage to Thomas Hood was not lost because his works were reprinted multiple times. For example, in 1857 a compilation titled "The Choice Works of Thomas Hood" included the essay with the saying. 9
In 1860 a painter named Charles Allston Collins who was a regular contributor to the weekly journal "All the Year Round" in London included an instance in an article titled "Our Eye-Witness Among the Buildings". Collins elevated the saying to the status of a "rule", but he did not provide an attribution: 10 11
The easy-looking, and the simple things in all art matters are more difficult than the complex and intricate. It is a rule that easy reading is hard writing, and to construct anything that the mind takes in without effort, and without being puzzled by it, is a triumph of art.
In 1867 a writer in the "Methodist Quarterly Review" incorrectly assigned the maxim to Sheridan: 12
But the-witty Sheridan once well remarked that "easy reading is terribly hard writing."
In 1882 the popular and prolific novelist Anthony Trollope placed the maxim into the thoughts of one of his characters: 13
She wrote such letters, letters so full of mingled wit and love and fun, that she was sure that he must take delight in reading them. "Easy reading requires hard writing," she said to herself as she copied for the third time one of her epistles…
In 1884 a book reviewer in the "Daily News" of London incorrectly assigned the adage to Lord Byron: 14
It seems an odd thing to say of a book dealing with the profoundest questions of human faith and destiny that it is easy reading; but as Byron used to say, easy reading means hard writing, and there is no mistaking the amount of laborious thought and investigation that has been spent upon these chapters.
In 1898 a book reviewer in the New York periodical "The Engineering Magazine" attributed the saying to the well-known novelist William Makepeace Thackeray: 15
"Easy reading means hard writing," said Thackeray, and if it is true, there can be no doubt that "De Pontibus" is the result of hard work and harder thought, for here is found the gist of matter which might easily have occupied double the space.
In 1979 Maya Angelou spoke at a press conference in Richmond, Virginia. She employed the saying and attributed the words to Nathaniel Hawthorne: 16
That preference, she said, recalls the comment of Nathaniel Hawthorne: "Easy reading is damned hard writing."
Years later in 1990 Angelou was interviewed in the pages of "The Paris Review" and she spoke the adage again with the same attribution: 17
Nathaniel Hawthorne says, "Easy reading is damn hard writing." I try to pull the language in to such a sharpness that it jumps off the page. It must look easy, but it takes me forever to get it to look so easy. Of course, there are those critics—New York critics as a rule—who say, Well, Maya Angelou has a new book out and of course it's good but then she's a natural writer. Those are the ones I want to grab by the throat and wrestle to the floor because it takes me forever to get it to sing.
In conclusion, QI would provisionally credit Thomas Hood with the version of the maxim he used in 1837. Yet, it is certainly possible that future researchers will locate earlier instances. This entry provides a snapshot of what is currently known by QI.
Richard Brinsley Sheridan and Lord Byron can be credited with the words given in the 1772 and 1818 citations, respectively. There is no substantive evidence that Sheridan or Byron employed the maxim under investigation.
Charles Allston Collins, Anthony Trollope, and Maya Angelou used the maxim after Thomas Hood. They helped to popularize the saying but did not coin it.
Image Notes: Thomas Hood portrait from Project Gutenberg eText number 16786. Library with clouds from Mysticsartdesign at Pixabay.
(Great thanks to Laurelyn Collins and Eric Feezell whose inquiries led QI to initiate three explorations of interlinked sayings. Special thanks to Bonnie Taylor-Blake who accessed the 1772 citation.)