Louisa May Alcott? Liz Smith? Apocryphal?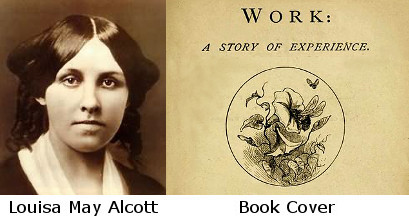 Dear Quote Investigator: The following quotation is popular with book lovers, and it has appeared on posters, mugs, tote bags, plaques, bookmarks, and jewelry:
She is too fond of books, and it has addled her brain.
The statement is attributed to the famous novelist Louisa May Alcott who wrote "Little Women", but I have not been able to find it in any of her works. Would you please determine the accuracy of this expression and ascription?
Quote Investigator: In 1873 Louisa May Alcott published the novel "Work: A Story of Experience", and it included a quotation that was nearly identical to the sentence above. Alcott actually used the word "turned" instead of "addled": 1
She is too fond of books, and it has turned her brain.
The relevant definition of "addled" in the misquotation is more familiar to modern readers than the definition of "turned" in the correct quotation: 2 3
turn: to disturb or upset the mental balance of: derange, distract, unsettle
QI conjectures that the expression under investigation was derived from the 1873 statement. The "addled" version entered circulation by 2007. This slightly inaccurate saying was more comprehensible and more humorous in QI's opinion. Quotations compete for distribution in the cultural realm of catchphrases, jingles, and verses. The modified statement had superior properties which facilitated its propagation although the original quotation also continued to circulate.
Below are selected citations in chronological order.
The main character in Alcott's 1873 novel "Work: A Story of Experience" was named Christie, and in chapter two she began to work as a servant for Mr. and Mrs. Stuart. One night Christie fell asleep while reading using candlelight illumination, and the consequences were calamitous: 4
A book had slipped from her hand, and in falling had upset the candle on a chair beside her; the long wick leaned against a cotton gown hanging on the wall, and a greater part of Christie's wardrobe was burning brilliantly.
The Stuart couple returned home and saw smoke from the fire exiting an attic window. Mr. Horatio Stuart ran inside and was able to douse the fire with water. When Christie awoke she saw the frantic leaping activity of Mr. Stuart in full evening costume and was unable to restrain incongruous laughter. Boldface has been added to excerpts: 5
The comic overpowered the tragic, and being a little hysterical with the sudden alarm, Christie broke into a peal of laughter that sealed her fate.

"Look at her! look at her!" cried Mrs. Stuart gesticulating on her perch as if about to fly. "She has been at the wine, or lost her wits. She must go, Horatio, she must go! I cannot have my nerves shattered by such dreadful scenes. She is too fond of books, and it has turned her brain."
Alcott did not use the word "addle" in the passage above; however, she did use it in another book titled "Jo's Boys, and How They Turned Out" which was an 1886 sequel to "Little Men": 6
"If you shake your head in that violent way, you'll addle what brains you have got; and I'd take care of 'em, if I were you," began teasing Ted.
The word "addle" applied to mentality was in Alcott's writing vocabulary, and it was semantically appropriate for the time and setting of the 1873 and 1886 novels. Hence, sensitivity to anachronism would not enable the detection of the misquotation under investigation.
The quotation with "turned" has continued to circulate in recent decades. For example, syndicated gossip columnist Liz Smith published the saying in 1995 with credit to Alcott: 7
"She is too fond of books, and it has turned her brain," wrote Louisa May Alcott.
In August 2007 a writer in a Garden City, Kansas newspaper saw the modified saying containing "addled" emblazoned on a sweat shirt, but no ascription was listed: 8
Book shirts are sweat shirts with messages like: "Who Needs Therapy? I've Got My Book Club." "Lead Me Not Into Temptation … Especially Book Stores." "She Is Too Fond of Books, and It Has Addled Her Brain." "I'm Booked Up." "Bookopoly." "Shhh, Reading."
In October 2007 a professor of English at Trinity University in San Antonio, Texas delivered a speech about literature that was covered in the San Antonio Express-News. The "addled" version of the saying was attributed to Alcott by the professor or the reporter: 9
Quoting Louisa May Alcott, Grissom told a receptive crowd of about 100, "'She is too fond of books and it has addled her brain.' Now, let's see how my brain got addled."
By 2012 the "addled" saying had been posted on the Goodreads website. Interestingly, the entry pointed to "Work: A Story of Experience" by Alcott. So, the reference was proper by the quotation was not quite correct: 10
Quotable Quote
"She is too fond of books, and it has addled her brain."
Louisa May Alcott, Work: A Story of Experience
In conclusion, the quotation in the 1873 citation is the correct one. The saying with "addled her brain" is entertaining but inaccurate.
Image Notes: Cropped portrait of Louisa May Alcott via Wikimedia Commons. Composite image based on the book cover of "Work: A Story of Experience". The title and main illustration are shown. The author name is omitted. The scan of the book cover is from archive.org via Wikimedia Commons.
(Great thanks to Carly Bornstein whose query led QI to formulate this question and perform this exploration.)