Louisa May Alcott? Liz Smith? Apocryphal?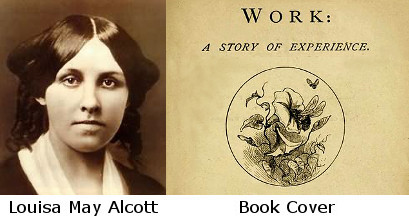 Dear Quote Investigator: The following quotation is popular with book lovers, and it has appeared on posters, mugs, tote bags, plaques, bookmarks, and jewelry:
She is too fond of books, and it has addled her brain.
The statement is attributed to the famous novelist Louisa May Alcott who wrote "Little Women", but I have not been able to find it in any of her works. Would you please determine the accuracy of this expression and ascription?
Quote Investigator: In 1873 Louisa May Alcott published the novel "Work: A Story of Experience", and it included a quotation that was nearly identical to the sentence above. Alcott actually used the word "turned" instead of "addled": 1
She is too fond of books, and it has turned her brain.
The relevant definition of "addled" in the misquotation is more familiar to modern readers than the definition of "turned" in the correct quotation: 2 3
turn: to disturb or upset the mental balance of: derange, distract, unsettle
QI conjectures that the expression under investigation was derived from the 1873 statement. The "addled" version entered circulation by 2007. This slightly inaccurate saying was more comprehensible and more humorous in QI's opinion. Quotations compete for distribution in the cultural realm of catchphrases, jingles, and verses. The modified statement had superior properties which facilitated its propagation although the original quotation also continued to circulate.
Below are selected citations in chronological order.
Continue reading She Is Too Fond of Books, and It Has Turned Her Brain
Notes:
1873, Work: A Story of Experience by Louisa May Alcott, Chapter 2 – Servant, Quote Page 32 and 33, Published by Roberts Brothers, Boston, Massachusetts. (Google Books Full View) link ↩
Website: Merriam-Webster Dictionary, Entry title: turn (verb), Website description: Words and definitions from Merriam-Webster; leading provider of language information. (Accessed merriam-webster.com on February 17, 2015) link ↩