Voltaire? Bernard Le Bovier de Fontenelle? Anonymous?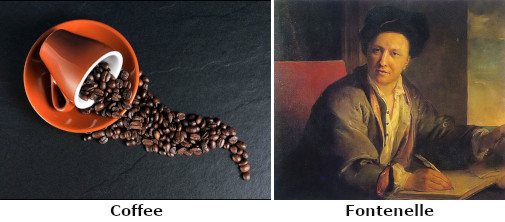 Dear Quote Investigator: Coffee enthusiasts enjoy sharing an anecdote about Voltaire who savored the aromatic beverage throughout his life. The famous philosopher's physician warned him that coffee was a slow poison. He replied, "Yes, it is a remarkably slow poison. I have been drinking it every day for more than seventy-five years".
Curiously, the same humorous tale has been told about the erudite and witty Frenchman Bernard Le Bovier de Fontenelle although the number of years mentioned was even larger. It seems unlikely that both stories are genuine. Would you please explore this topic?
Quote Investigator: Bernard Le Bovier de Fontenelle died in 1757. Voltaire (pen name of François-Marie Arouet) died in 1778.
This anecdote is difficult to trace because its expression is highly variable. The earliest match located by QI occurred in 1780 after both gentlemen were dead within a French almanac titled "Almanach Littéraire ou Étrennes d'Apollon". Emphasis added to excerpts by QI: 1
Un Médecin soutenait à Fontenelle que le caffé était un poison lent. "Oui-dà, dit le Philosophe en souriant, il y a plus de quatre vingt ans que j'en prends tous les jours. Voilà ce qu'on appelle une preuve sans réplique".
Here is one possible rendering into English:
A doctor told Fontenelle that coffee was a slow poison. "Yes," said the philosopher, smiling, "I have been taking it every day for more than eighty years." This is what is called an unanswerable proof.
Fontenelle received credit for the comical reply, but the long gap after his death reduced the credibility of the ascription. Perhaps future researchers will discover earlier evidence.
Below are additional selected citations in chronological order.
In 1783 the Paris periodical "Mercure de France" published an instance of the tale: 2
Un Médecin soutenoit devant Fontenelle que le café est un poison lent. Oui, lui dit Fontenelle, bien lent, Docteur, car il y a quatre vingt ans que j'en prends tous les jours.
Here is one possible rendering into English:
A Doctor speaking to Fontenelle maintained that coffee is a slow poison. Yes, said Fontenelle, very slow, Doctor, for I have taken it every day for eighty years.
A German version appeared in a book by August von Kotzebue which was translated into English in 1807 under the title "Historical, Literary, and Political Anecdotes, and Miscellanies". This instance of the anecdote featured Voltaire instead of Fontenelle; also, the number of years was reduced from eighty to seventy-five: 3
Voltaire drank immense quantities of Coffee, and was not-withstanding eighty-four years of age. The clever answer, which he gave to a friend, who was proving to him that coffee was a slow poison, is well known. "Slow it must be indeed," replied Voltaire, "for I have sipped it for seventy-five years."
In 1808 a version in English with Fontenelle appeared in a school book titled "A Grammar of the French Language: or, a New Method of Learning to Speak and Write French": 4
A physician who attended Fontenelle, once found him drinking coffee.—My good Sir, said this sage descendant of Galen, I am astonished to see you swallowing the juice of that pernicious berry! Coffee is a slow poison.—I think it must be slow, said Fontenelle, for I have drank it with great perseverance for more than 40 years.
In 1814 the anecdote was printed in "The Flowers of Wit, or a Choice Collection of Bon Mots, Both Ancient and Modern" compiled by Reverend Henry Kett, and the phrasing continued to evolve: 5
A physician observed to Fontenelle, that coffee kills by a slow poison. "Yes, very slow indeed," answered the philosopher, smiling; "for I have taken it every day for these fourscore years past, and am alive still."
In 1818 "The New Monthly Magazine" of London published a letter to the editor containing an instance: 6
It is well known, that on the introduction of coffee into western Europe, a great outcry was raised against that beverage, which was pronounced to be an absolute poison. It was with reference to this opinion that Fontenelle, whose favourite drink was coffee, and whose life was prolonged to very near a century, observed:—"If coffee is a poison, it must be a very slow one, for it has been above eighty years killing me."
In 1855 the religious journal "Friends' Intelligencer" printed an instance with writer Jean-Jacques Rousseau warning about the dangers of coffee instead of a physician: 7
It is a well known story that the French poet, Rousseau, once on a visit to Voltaire, remarked to the latter that coffee was a poison. Voltaire replied, "True; but a poison which affects the health very slowly, as I have been drinking it for sixty years."
In conclusion, current evidence is inadequate to formulate a strong position. Bernard Le Bovier de Fontenelle may have crafted the riposte, but the 1780 citation occurred too late to provide definitive evidence. The line may have been created by an anonymous figure and reassigned to Fontenelle. The support for an ascription to Voltaire is even weaker. Future discoveries may help to clarify the provenance of the anecdote.
Image Notes: Portrait of Bernard le Bovier de Fontenelle by Louis Galloche circa 1723. Picture of Coffee cup with coffee beans from Christoph at Pixbay.
(Great thanks to Daniel Gackle whose inquiry led QI to formulate this question and perform this exploration.)