Voltaire? Bernard Le Bovier de Fontenelle? Anonymous?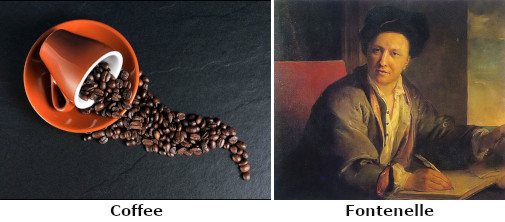 Dear Quote Investigator: Coffee enthusiasts enjoy sharing an anecdote about Voltaire who savored the aromatic beverage throughout his life. The famous philosopher's physician warned him that coffee was a slow poison. He replied, "Yes, it is a remarkably slow poison. I have been drinking it every day for more than seventy-five years".
Curiously, the same humorous tale has been told about the erudite and witty Frenchman Bernard Le Bovier de Fontenelle although the number of years mentioned was even larger. It seems unlikely that both stories are genuine. Would you please explore this topic?
Quote Investigator: Bernard Le Bovier de Fontenelle died in 1757. Voltaire (pen name of François-Marie Arouet) died in 1778.
This anecdote is difficult to trace because its expression is highly variable. The earliest match located by QI occurred in 1780 after both gentlemen were dead within a French almanac titled "Almanach Littéraire ou Étrennes d'Apollon". Emphasis added to excerpts by QI: 1
Un Médecin soutenait à Fontenelle que le caffé était un poison lent. "Oui-dà, dit le Philosophe en souriant, il y a plus de quatre vingt ans que j'en prends tous les jours. Voilà ce qu'on appelle une preuve sans réplique".
Here is one possible rendering into English:
A doctor told Fontenelle that coffee was a slow poison. "Yes," said the philosopher, smiling, "I have been taking it every day for more than eighty years." This is what is called an unanswerable proof.
Fontenelle received credit for the comical reply, but the long gap after his death reduced the credibility of the ascription. Perhaps future researchers will discover earlier evidence.
Below are additional selected citations in chronological order.
Continue reading "Coffee Is a Slow Poison" "Slow It Must Be Indeed for I Have Sipped It for Seventy-Five Years"