Groucho Marx? Lord Palmerston? Old Bishop? John Cordy Jeaffreson? Söndags-Nisse? Robert Lee Bullard? Anonymous?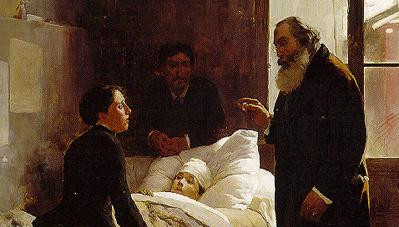 Dear Quote Investigator: A famous person lying on their deathbed overheard distraught visitors discussing mortality. The stricken but still lively individual sat bolt upright and declared:
Die? That's the last thing I'll do.
This humorously redundant statement has been attributed to U.S. comedian Groucho Marx and U.K. statesman Lord Palmerston. Would you please explore this topic?
Quote Investigator: The phrasing of this quip has evolved over time. Here is a sampling with dates:
1866 Jun 28: Dying was the last thing a man should think about.
1866 Dec 01: Die, my dear doctor! That's the last thing I think of doing.
1867 Mar 01: As for my dying, that is the last thing I shall do.
1886 May 22: Die, my dear doctor! That's the last thing I shall do.
1901 Mar 25: Die? That's the last thing I'll do.
1925 Jan 18: Die . . . That is the last thing I intend to do.
1933 Oct 12: The last thing that I intend to do, brethren, is to die.
Lord Palmerston (Henry John Temple) died on October 18, 1865. The quip was attributed to him by December 1866. He suffered from gout during his final years, and he reportedly delivered the line to a doctor while suffering from the ailment. Lord Palmerston is the leading candidate for crafter of this quip based on current data.
There is one complication. A variant joke was ascribed to an "old Bishop" by June 28, 1866. This date was after Palmerston's death but before he received credit. Hence, it is possible that an existing anonymous joke was simple reassigned to Palmerston posthumously.
Groucho Marx was born in 1890 and died in 1977. The joke was ascribed to him by 2008. This is very weak evidence, and QI believes the attribution to Groucho is spurious.
Below are selected citations in chronological order.
Newspaper accounts indicate that Lord Palmerston suffered from gout repeatedly during the 1860s. The time period of this disease is pertinent to this exploration because evidence suggests that the quip was spoken by Palmerston while he was experiencing an attack of gout.
On December 28, 1861 "The Westmorland Gazette" printed the following. Boldface added to excerpts by QI 1
Lord Palmerston has suffered during the week from an attack of gout in his legs, which has prevented his Lordship leaving his town residence, but has not prevented him from attending to public business.
On April 30, 1864 the "Yorkshire Gazette" reported on another attack: 2
Lord Palmerston has been confined to his residence during the week by attack of gout, which will account for his absence in the House of Commons.
On April 26, 1865 "The Western Daily Press" of Bristol, England reported on additional misery: 3
Lord Palmerston had a rather sharp attack of gout in the right hand, which prevented his being present at the Cabinet Council on Saturday, but we are glad to learn that he is now nearly convalescent.
On October 21, 1865 the "Illustrated Times" of London reported on the death of Lord Palmerston which had occurred a few days earlier: 4
We deeply regret to state that Viscount Palmerston died on Wednesday morning, at a quarter to eleven, at Brocket Hall, Hertfordshire. The noble Lord had only partially recovered from his recent attack of gout, when he caught a cold; but from this, too, he was believed to be rallying, when a relapse occurred, and he gradually sank.
The earliest match for the quip located by QI appeared in June 1866 within an article printed in "Wilmington Journal" of North Carolina. Lord Palmerston was not referenced. The word "phrase" was spelled as "phraze": 5
A good old Bishop once remarked, that "dying was the last thing a man should think about," and the mixture of wisdom and quaint humor in the phraze had impressed Mr. Davis.
The above passage appeared in other newspapers such as the "Daily Clarion and Standard" of Jackson, Mississippi in July 1866. 6
Near the end of 1866 John Cordy Jeaffreson was preparing a manuscript titled "A Book About Lawyers" for publication. The work was given to a reviewer for the London journal "Colburn's United Service Magazine", and the reviewer printed an analysis of the forthcoming book in the December 1866 issue of the journal. The reviewer was intrigued by some quotations in the book about death and decided to reprint one of the remarks attributed by Jeaffreson to Lord Palmerston: 7
. . . the latest mot was added the other day by Lord Palmerston, who during his late attack of gout exclaimed, playfully, 'Die, my dear doctor! That's the last thing I think of doing.'
"A Book About Lawyers" was officially published in 1867, and the final text differed slightly from the passage given above. The phrase "his late attack" was given as "his last attack" in the book. 8
Also, in 1867 the book "Bench and Bar: A Complete Digest of the Wit, Humor, Asperities, and Amenities of the Law" by L. J. Bigelow was published. This book included the same passage about Palmerston from "A Book About Lawyers". 9
In March 1867 "The Pall Mall Gazette" of London attributed the quip to Lord Palmerston, but the line was not delivered from a deathbed: 10
There is a story of Lord Palmerston that, on hearing that some of his friends, who discountenanced his retiring, had said they thought that "if he gave up office he would die," he replied, "as for my dying, that is the last thing I shall do."
The passage above achieved further circulation when it was reprinted in multiple newspapers in England. "The Pall Mall Gazette" was acknowledged. The papers included "The Newcastle Daily Chronicle" of Newcastle Upon Tyne 11 and "The Derby Mercury" of Derby. 12
In 1883 "The Wayne County Herald" of Honesdale, Pennsylvania published a tale about Palmerston that was similar to the account given in December 1866: 13
Lord Palmerston during his last attack of the gout exclaimed playfully to his medical adviser, "Die, my dear doctor? That's the last thing I think of doing."
In May 1886 "The Manchester Courier" of England printed another version of the Palmerston tale. This instance of the quip did not use the word "think": 14
Lord Palmerston's good humour as a distinct element his character is well known. We find it even during his last illness, when his physician was forced to mention death. "Die, my dear doctor!" he exclaimed; "that's the last thing I shall do."
By June 1886 the passage above had jumped across the Atlantic Ocean and was printed in "The Brooklyn Union" newspaper of Brooklyn, New York. 15
In 1901 "The Minneapolis Tribune" printed another instance of the joke while crediting Söndags-Nisse, a Swedish humor magazine: 16
"But, my dear Tobias, remember that you may die at any time."
"Die, did you say? Die? That's the last thing I'll do."
—Sondags Nisse.
In 1904 the attribution to Lord Palmerston continued to circulate via the pages of "The Saskatoon Phenix" of Canada: 17
It was said of Lord Palmerston that he never grew old and was as light-hearted as a boy to the very end. When he was on his deathbed and the doctors told him that his time had come he brightened up for a final jest. "Die, my dear doctor! That's the last thing I shall do!" It was.
In 1925 "The Brooklyn Daily Eagle" of Brooklyn, New York published a piece about Lieutenant General Robert Lee Bullard who was retiring from the military. Bullard employed a version of the jest: 18
There is much conjecture as to what General Bullard will do now that he has left the service. He calls himself a man in search of a job. "I am retiring from the army," he said, "but that doesn't mean that I am retiring from work. I'd die very soon if I didn't have work, and that," with a twinkle in his eye, "is the last thing I intend to do."
In 1933 a newspaper in Clarksville, Tennessee described an amusing religious speaker: 19
Bishop Candler of Atlanta delighted the audience this morning with his ready wit . . .

Among his remarks were: "The last thing that I intend to do, brethren, is to die."

"You'd better listen," he said when a noise disturbed the meeting, "I am talking sense and there's no telling how much of it you'll need."
In 1949 "The Home Book of Quotations" compiled by Burton Stevenson included this entry. The punchline included the word "shall": 20
Die, my dear doctor! That's the last thing I shall do!
VISCOUNT PALMERSTON
In 1950 the newspaper column "Famous Fables" by E. E. Edgar printed a version of the story during which Palmerston was lying on his deathbed and he overheard his doctors conversing. The punchline included the word "intend": 21
"What's your opinion?" asked the first doctor.

"There's nothing more to be done," said the second. "I'm afraid he is going to die soon."

At this, Palmerston opened his eyes and murmured: "That, doctor, is the last thing I intend to do!"
In 2008 "Discover's 20 Things You Didn't Know About Everything" implausibly attributed the punchline to comedian Groucho Marx: 22
Groucho Marx (1890-1977), vaudeville and movie actor of caustic wit: "Die, my dear? Why that's the last thing I'll do!"
In 2010 a columnist in a Parsippany, New Jersey also credited Groucho Marx: 23
Groucho Marx, ever the comedian, said to his grieving wife, "Die, my dear? That's the last thing I'll do"
In conclusion, QI tentatively credits Lord Palmerston (Henry John Temple) with this quip based on the December 1866 citation and the March 1, 1867 citation. If this ascription is accurate then Palmerston would have employed the line before his death on October 18, 1865. An attack of gout may have inspired his remark.
Another version of the punchline containing the word "think" was attributed to an "old Bishop" on June 28, 1866. It is possible that Palmerston's remark led to the creation of this variant. Alternatively, the "old Bishop" joke may have led to the posthumous construction of the line attributed to Palmerston. QI hopes that future researchers will help to clarify the origin.
Image Notes: Public domain image of the painting titled "The Sick Child" by Arturo Michelena circa 1886. The image has been cropped and resized.
(Great thanks to Andrew Munro whose inquiry led QI to formulate this question and perform this exploration. Special thanks to Pete Morris who located the important citation in "Colburn's United Service Magazine".)
Update History: On May 12, 2021 the citations about gout from 1861, 1864 and 1865 were added to the article. Also, the December 1866 "Colburn's United Service Magazine" citation was added. In addition, the two book citations from 1867 were added. The article was partially rewritten.