Mignon McLaughlin? Apocryphal?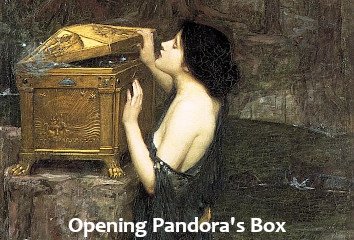 Dear Quote Investigator: Feeling discouraged is a natural reaction to the state of the world sometimes. Currently, there is a pandemic curtailing social and economic activity almost everywhere. Yet, these pessimistic feelings will not last forever. My favorite witty person, Mignon McLaughlin, once presented a clever definition of "hope" that is pertinent.
Quote Investigator: In 1963 the U.S. journalist Mignon McLaughlin published a collection of quips and observations titled "The Neurotic's Notebook". Here is her germane remark: 1
Hope is the feeling we have that the feeling we have is not permanent.
McLaughlin's book included two other statements mentioning hope: 2
When hope is hungry, everything feeds it.

There are whole years for which I hope I'll never be cross-examined, for I could not give an alibi
Image Notes: Painting of Pandora by John William Waterhouse circa 1896. Image has been resized, retouched and cropped. The opening of Pandora's box released death, sickness, and other maladies. The final item in the box was hope.
Notes:
1963, The Neurotic's Notebook by Mignon McLaughlin, Chapter: The General Orneriness of Things, Quote Page 58, The Bobbs-Merrill Company, Indianapolis, Indiana. (Verified with scans) ↩
1963, The Neurotic's Notebook by Mignon McLaughlin, Quote Page 49 and 93, The Bobbs-Merrill Company, Indianapolis, Indiana. (Verified with scans) ↩