E. E. Cummings? Corita Kent? Helen Kelley? Anonymous?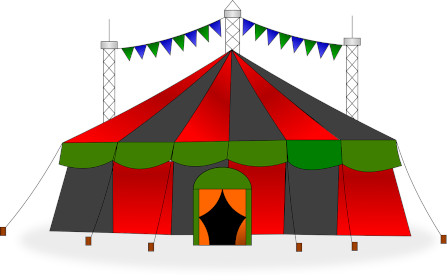 Dear Quote Investigator: To enjoy a full life one must be willing to embrace excitement, change, beauty, and risk. Metaphorically, one must enter the center ring of life's circus and perform. The prominent U.S. poet E. E. Cummings (often styled e e cummings) has been credited with a pertinent passage:
Damn everything but the circus! . . . damn everything that is grim, dull, motionless, unrisking, inward turning, damn everything that won't get into the circle, that won't enjoy. That won't throw it's heart into the tension, surprise, fear and delight of the circus, the round world, the full existence.
I think this attribution is inaccurate because I have never been able to find a solid citation. Would you please help me to find the true author?
Quote Investigator: QI believes the passage under examination is a composite. The first line was extracted from a dialog written by E. E. Cummings, and the remainder was created by Sister Helen Kelley who was President of Immaculate Heart College of Los Angeles, California from 1963 to 1977.
In 1927 E. E. Cummings published a play titled "Him" in the literary journal "Dial". The work included the following exchange between characters named "Him" and "Me". Cumming's text combined some words, e.g., "circus tent" appeared as "circustent". Boldface added to excerpts by QI:[1]1927 August, Dial: A Semi-monthly Journal of Literary Criticism, Discussion, and Information, Him by E. E. Cummings, Act 1, Scene 2, Start Page 101, Quote Page 105 and 106, Chicago, Illinois. … Continue reading
HIM: (Vehemently) Damn everything but the circus! (To himself ) And here am I, patiently squeezing fourdimensional ideas into a twodimensional stage, when all of me that's any one or anything is in the top of a circustent . . . ( A pause.)

ME: I didn't imagine you were leading a double life—and right under my nose, too.

HIM: ( Unhearing, proceeds contemptuously ) : The average "painter" "sculptor" "poet" "composer" "playwright" is a person who cannot leap through a hoop from the back of a galloping horse, make people laugh with a clown's mouth, orchestrate twenty lions.
Here are additional selected citations in chronological order.
Continue reading Damn Everything But the Circus! Damn Everything That Is Grim, Dull, Motionless, Unrisking, Inward Turning
References

↑

1
1927 August, Dial: A Semi-monthly Journal of Literary Criticism, Discussion, and Information, Him by E. E. Cummings, Act 1, Scene 2, Start Page 101, Quote Page 105 and 106, Chicago, Illinois. (ProQuest)