Otto von Bismarck? Heinrich von Poschinger? Léon Gambetta? General Booth-Tucker? W. B. Bonnifield? Herbert S. Bigelow? S. E. Kiser? Anonymous?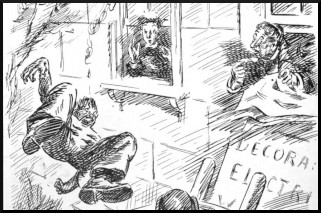 Dear Quote Investigator: According to a comical legend, a positive thinker accidentally fell from the roof of a skyscraper. While passing each story on the way down, this optimistic person happily remarked, "Everything is fine so far." Would you please trace this joke?
Quote Investigator: QI hopes that a rescue net was deployed in time to justify the equanimity.
This joke is difficult to trace because the phrasing is highly variable. Also, it has been told in multiple languages, e.g., French, German, and English. The earliest published instance located by QI occurred in the Paris newspaper "Le Figaro" in 1887. The statesman Léon Gambetta was speaking to the novelist Alphonse Daudet. Here is the passage in French followed by a rendering in English. Emphasis added to excerpts by QI:[1] Date: 14 Février 1887 (1887 February 14), Newspaper: Le Figaro, Article: Gambetta-Roumestan, Quote Page 1, Column 2, Newspaper Location: Paris, France. (Gallica)
Rappelle-toi ce mot du maçon qui tombe du cinquième étage et à qui un locataire du troisième demande : comment cela va-t-il ? – Pas mal jusqu'à présent, répond le maçon, mais ça se verra au bout !

Remember the words of the mason who falls from the fifth floor and to whom a tenant on the third asks: how is it? – Not bad so far, says the mason, but we will see at the end!
The 1900 book "Conversations with Prince Bismarck" contained anecdotes collected by Heinrich von Poschinger about Otto von Bismarck, the "Iron Chancellor" of Germany:[2]1900, Conversations with Prince Bismarck, Collected by Heinrich von Poschinger, English Edition Edited by Sidney Whitman, Chapter 7: In Lighter Vein, Quote Page 269, Harper & Brothers, New York, … Continue reading
Count Beust, Aide-de-camp to the Grand Duke of Saxe-Weimar, congratulated Bismarck at Versailles, on January 15, 1871, on the excellent relations existing between the German Chancellor and his namesake. Count Beust, the Austrian Minister. "Yes," said Bismarck, "that is all very well; but it always reminds me of the story of the slater who, in falling from a tower, remarked as he passed each story, 'All's well so far.'"
Thus, the tale entered English by 1900 and was probably circulating in German decades before this date. Bismarck disclaimed credit for the joke by using the phrase "reminds me of the story".
Below are additional selected citations in chronological order.
Continue reading The Optimist Who Fell from a Tall Building Said While Passing Each Story "All's Well So Far"
References

↑

1
Date: 14 Février 1887 (1887 February 14), Newspaper: Le Figaro, Article: Gambetta-Roumestan, Quote Page 1, Column 2, Newspaper Location: Paris, France. (Gallica)

↑

2
1900, Conversations with Prince Bismarck, Collected by Heinrich von Poschinger, English Edition Edited by Sidney Whitman, Chapter 7: In Lighter Vein, Quote Page 269, Harper & Brothers, New York, (HathiTrust Full View) link