Otto von Bismarck? Heinrich von Poschinger? Léon Gambetta? General Booth-Tucker? W. B. Bonnifield? Herbert S. Bigelow? S. E. Kiser? Anonymous?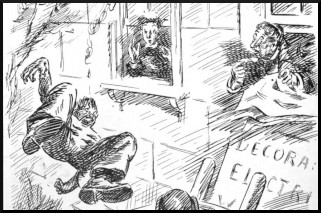 Dear Quote Investigator: According to a comical legend, a positive thinker accidentally fell from the roof of a skyscraper. While passing each story on the way down, this optimistic person happily remarked, "Everything is fine so far." Would you please trace this joke?
Quote Investigator: QI hopes that a rescue net was deployed in time to justify the equanimity.
This joke is difficult to trace because the phrasing is highly variable. Also, it has been told in multiple languages, e.g., French, German, and English. The earliest published instance located by QI occurred in the Paris newspaper "Le Figaro" in 1887. The statesman Léon Gambetta was speaking to the novelist Alphonse Daudet. Here is the passage in French followed by a rendering in English. Emphasis added to excerpts by QI: 1
Rappelle-toi ce mot du maçon qui tombe du cinquième étage et à qui un locataire du troisième demande : comment cela va-t-il ? – Pas mal jusqu'à présent, répond le maçon, mais ça se verra au bout !

Remember the words of the mason who falls from the fifth floor and to whom a tenant on the third asks: how is it? – Not bad so far, says the mason, but we will see at the end!
The 1900 book "Conversations with Prince Bismarck" contained anecdotes collected by Heinrich von Poschinger about Otto von Bismarck, the "Iron Chancellor" of Germany: 2
Count Beust, Aide-de-camp to the Grand Duke of Saxe-Weimar, congratulated Bismarck at Versailles, on January 15, 1871, on the excellent relations existing between the German Chancellor and his namesake. Count Beust, the Austrian Minister. "Yes," said Bismarck, "that is all very well; but it always reminds me of the story of the slater who, in falling from a tower, remarked as he passed each story, 'All's well so far.'"
Thus, the tale entered English by 1900 and was probably circulating in German decades before this date. Bismarck disclaimed credit for the joke by using the phrase "reminds me of the story".
Below are additional selected citations in chronological order.
In 1901 the periodical "The Youth's Companion" of Boston, Massachusetts reprinted the jest about the slater without attribution: 3
Turkey, ordering a new war-ship without paying what is due on past contracts, recalls the optimism of the slater who, falling from a tower, remarked as he passed each story, "All's well so far."
In 1902 the New York humor magazine "Life" printed the excerpt above from "Conversations with Prince Bismarck" as part of an anecdote contest. The editors credited the book while further disseminating the jest. 4
In June 1903 "Suggestion: A Magazine of Psycho-Therapy" printed the following instance: 5
An optimist falling from a tenth story window, called out cheerfully as he passed each story, going down, "All right so far!"
In October 1903 "The Baltimore Sun" of Maryland printed a statement from political candidate General Booth-Tucker that included an instance of the tale: 6
'I have been called an optimist, and I plead guilty to the charge, but I am not such an optimist as the man who fell from the roof of a 10-story building. As he passed the eighth story he called out: 'I'm all right so far!' As he passed the fifth story he cried out again: 'I'm all right so far!' and as he flew past the second story the same cheerful cry was heard. Then he landed headfirst and hadn't a word more to say. I'm not like that man. I am willing to say: 'I'm all right so far!' but I want a net to fall in.
In January 1904 a newspaper in Colorado Springs, Colorado published a short instance while acknowledging another periodical. The word "story" was incorrectly omitted which transformed "10th story" to "10th": 7
An optimist falling from a 10th window, called out cheerfully as he passed each story, going down, "All right so far!"—(Exchange
In February 1904 W. B. Bonnifield who was the president of a bank in Ottumwa, Iowa employed the anecdote: 8
I would not be a pessimist, I am an optimist. I know there is sunshine, health and happiness in optimism. But I am not of that order of optimists that says there are no human woes that we need to look after, that "all is right so far," as was said by the man who fell from the roof of a twenty story sky-scraper, and was heard to remark, as he passed each floor, "All is right so far." What he remarked when he struck the cobble stone pavement is not recorded.
In November 1904 the periodical "The Public" presented an address from Ohio pastor Herbert S. Bigelow which included the joke: 9
We have heard the optimist likened to a man who fell from the top of a 17-story building, and who said to himself as he passed each floor on his downward plunge: "I'm all right so far. I'm all right so far."
In 1907 "Munsey's Magazine" published a short story by S. E. Kiser containing the jest: 10
While writing his message he suddenly remembered the story of the optimist who, having fallen from the roof of a high building, called out as he was passing the third or fourth story, "I'm all right so far."
Sometimes the tale referred to a well-known building. For example, an instance in 1908 mentioned the Flatiron Building of New York: 11
Dr. E. R. L. Gould, the Citizens' Union leader, says a New York exchange, who is getting ready for a hard fight in the coming city campaign, gave this definition of an optimist yesterday:

"A fellow who can fall off the top story of the Flatiron Building and yell out as he passes each story on his way downs, 'It's all right so far!'"
In 1912 "The Sketch: A Journal of Art and Actuality" based in London published a cartoon depicting three onlookers watching as a workman fell from a platform adjacent to a building. The caption used the word "cullies" which is slang for friends: 12
THE OPTIMIST.
"Aw' right so far, cullies."
In 1917 "Theatre Magazine" printed a version with the classic expression "so far so good": 13
The perfect optimist, you know, is the fellow who falls from a ten-story building and when he passes the fifth floor they hear him say: "Well, so far so good!"
In 1936 syndicated columnist Heywood Broun used the Empire State Building as a setting for the joke: 14
The man who jumped from the top of the Empire State Building said, as he passed the sixtieth story, "Well, everything's all right up till now."
In 1947 a pioneering work of skepticism titled "The Natural History of Nonsense" by Bergen Evans discussed the incorrect belief that individuals who fall from tall buildings die during free fall. The book referred to the article in "The Lancet": 15
The story of a Parisian window-cleaner who in the course of a fatal descent was heard to observe, 'I'm all right so far,' as he passed a third-floor window, was contributed as further evidence but was rejected by the medical authorities as being suspiciously waggish.
In conclusion, this comical episode was circulating in French by 1887. It entered English by 1900 in a book translated from German. In 1900 Otto von Bismarck received credit from Heinrich von Poschinger for employing an instance in 1871. Many versions proliferated in English after 1900. At this time, QI has not yet attempted to trace German instances.
Image Notes: Cartoon Drawn by Hope Read published September 4, 1912 in "The Sketch: A Journal of Art and Actuality" of London available via the HathiTrust database. The images at the top of the article is cropped.
(Great thanks to Dennis Lien whose inquiry led QI to formulate this question and perform this exploration. Lien located the 1912 citation, and he mentioned "The Natural History Of Nonsense". Thanks also to researcher Barry Popik who explored the Empire State Building version of the joke. He located the 1936 citation, and he traced the joke without the Empire State Building back to 1924.)
Update: History: On March 10, 2019 the 1887 citation was added. On September 14, 2019 the 1947 citation was added.