Groucho Marx? Jack Oakie? Anonymous?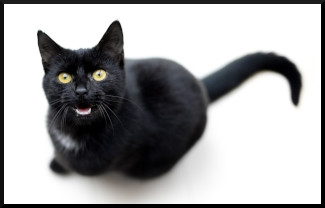 Dear Quote Investigator: Encountering a black cat may bring you good luck or bad luck according to a complicated rule dictated by superstitious beliefs. The nature of the omen depends on whether the cat was traveling from left to right or the reverse. It also depends on whether the cat was moving toward you or away. I prefer the simple analysis credited to the famous comedian Groucho Marx:
A black cat crossing your path signifies that the animal is going somewhere.
Did Groucho really say this? I have been unable to find a solid citation. Would you please help?
Quote Investigator: This question is difficult to resolve. The earliest citation found by QI occurred in January 1931 when the quip was ascribed to the popular actor Jack Oakie. Yet, in July 1931 the joke was credited to Groucho Marx. Currently, Oakie is the leading candidate for authorship although future research may switch the attribution.
"The Marion Star" of Marion, Ohio published a piece about Oakie in January 1931 that included six jokes about superstitious beliefs. Here were three of them. Emphasis added to excerpts by QI: 1
Oakie, you know, doesn't believe in signs and superstitions and has drawn up a list of good and bad signs which can't fail. Here are a few of them:

"A black cat crossing in front of a person signifies that the animal is going somewhere.

"Throwing salt over one's shoulder is likely to give the impression that the wearer has dandruff.

"Thirteen is unlucky at a dinner when the host has only twelve chops.
The original phrasing of the black cat joke differed a bit from the common modern version.
Below are additional selected citations in chronological order.
Continue reading A Black Cat Crossing Your Path Signifies That the Animal Is Going Somewhere
Notes:
1931 January 15, The Marion Star, Theater News and Reviews: Jack Oakie Spends Pleasant Pastime Kidding Gangsters by Hallie Houck, Quote Page 16, Column 4 and 5, Marion, Ohio. (Newspapers_com) ↩