John Adams? Thomas Jefferson? John Ewing? John Hurt?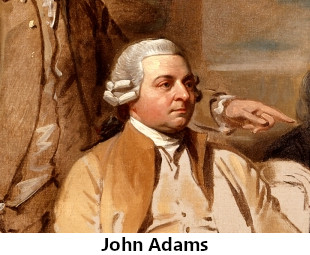 Dear Quote Investigator: Surprisingly, one of the founding fathers of the United States was skeptical about the long-term viability of democracy. The statesman believed that the proponents of democracy were philosophically immature. He was sympathetic to a young person of fifteen who found the system attractive, but he felt that someone over twenty should view a democratic system with suspicion. Would you please help me to find a citation.
Quote Investigator: John Adams was a central figure in the birth of the United States. He helped to draft the Declaration of Independence together with Thomas Jefferson. To temper the impulses of the electorate, Adams argued for the separation of powers. The legislative, executive, and judicial powers should be distinct, so that they could constrain one another.
Adams was skeptical of direct democracy. He favored a representative republic structure in which the people elected representatives to a legislature. Adams was the second president of the U.S. from 1797 to 1801. The papers of Thomas Jefferson included an interesting anecdote that occurred during Adams's presidency. Boldface added to excerpts by QI:[1]1829, Memoir, Correspondence, and Miscellanies, from the Papers of Thomas Jefferson, Edited by Thomas Jefferson Randolph, Volume 4, Entry date: January 1799, Quote Page 509, F. Carr and Company, … Continue reading
January, 1799. In a conversation between Doctor Ewen and the President, the former said one of his sons was an aristocrat, the other a democrat. The President asked if it was not the youngest who was the democrat. Yes, said Ewen. Well, said the President, a boy of fifteen who is not a democrat is good for nothing, and he is no better who is a democrat at twenty. Ewen told Hurt, and Hurt told me.
Thus, this story was transmitted through two intermediaries before it reached the ears of Jefferson. A footnote accompanying this passage which is available at the "Founders Online" website of the U.S. National Archives identifies the intermediaries.[2]Website: Founders Online, Title: Notes on Comments by John Adams, [1–14 January 1799], Footnote for "Dr. Ewen". Website description: In 2010, the U.S. National Archives entered into a … Continue reading "Ewen" was an alternative spelling of "Ewing", and "Dr. Ewen" referred to John Ewing. John Hurt was a former chaplain of Virginia who was a political supporter of Jefferson.
The Quote Investigator website has a separate article about a thematically pertinent expression: "If You Are Not a Liberal at 25, You Have No Heart. If You Are Not a Conservative at 35 You Have No Brain" Here is a link to that item.
Below are additional selected citations in chronological order.
Continue reading A Boy of Fifteen Who Is Not a Democrat is Good for Nothing, and He Is No Better Who Is a Democrat at Twenty
References

↑

1
1829, Memoir, Correspondence, and Miscellanies, from the Papers of Thomas Jefferson, Edited by Thomas Jefferson Randolph, Volume 4, Entry date: January 1799, Quote Page 509, F. Carr and Company, Charlottesville, Virginia. (Google Books Full View) link

↑

2
Website: Founders Online, Title: Notes on Comments by John Adams, [1–14 January 1799], Footnote for "Dr. Ewen". Website description: In 2010, the U.S. National Archives entered into a cooperative agreement with The University of Virginia Press to create this website and make freely available online the historical documents of the Founders of the United States of America. (founders.archives.gov accessed on June 2, 2021) link