Henry Ford? Jessie Potter? Dayle K. Maloney? Cathy Bolger? Susan Jeffers? Jackie "Moms" Mabley? Tony Robbins? Anonymous?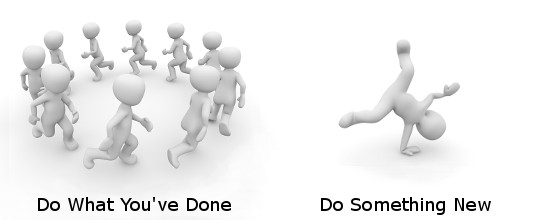 Dear Quote Investigator: Why do people repeat foolish, ineffective, or self-destructive behaviors? Self-help books contain an adage about the consequences of thoughtless repetition. Here are three versions:
1) If you do what you've always done you'll get what you've always gotten.

2) If you always do what you've always done, you'll always get what you've always got.

3) If you keep on doing what you've always done, you will keep getting what you've always gotten.
This saying has been credited to the automotive tycoon Henry Ford and the motivational speaker Tony Robbins. Would you please explore its provenance?
Quote Investigator: The important reference work "The Dictionary of Modern Proverbs" from Yale University Press has an entry for this expression. Interestingly, researchers have only been able to trace it back to the 1980s. 1
The earliest instance located by QI appeared in "The Milwaukee Sentinel" of Milwaukee, Wisconsin in 1981. The speaker was an educator and counselor on family relationships and human sexuality named Jessie Potter who worked for a non-profit organization she founded. Boldface has been added to excerpts: 2
"If you always do what you've always done, you always get what you've always gotten." That was the advice of Jessie Potter, the featured speaker at Friday's opening of the seventh annual Woman to Woman conference.

The director of the National Institute for Human Relationships in Oak Lawn, Ill., Ms. Potter drew on anecdotes and frank comments about sex and love in asserting that change is needed in the American way of growing up, falling in love, raising a family and growing old.
The phrasing of the adage is highly variable; hence, it has been difficult to trace. The linkage to Henry Ford who died in 1947 appears to be spurious. Jessie Potter helped to popularize the saying, and she may have coined it, but uncertainty remains.
Here are additional selected citations in chronological order.
Continue reading If You Always Do What You've Always Done, You Always Get What You've Always Gotten
Notes:
2012, The Dictionary of Modern Proverbs, Compiled by Charles Clay Doyle, Wolfgang Mieder, and Fred R. Shapiro, Quote Page 57, Yale University Press, New Haven. (Verified on paper) ↩
1981 October 24, The Milwaukee Sentinel, Search For Quality Called Key To Life by Tom Ahern, Quote Page 5, Column 5, Milwaukee, Wisconsin. (Google News Archive) ↩