Steven Wright? Kurt Vonnegut? Emo Philips? Rich Siegel? Anonymous?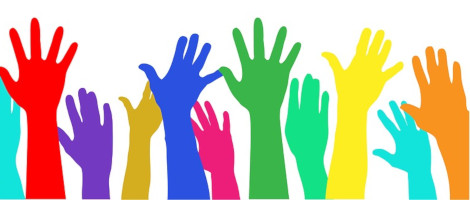 Dear Quote Investigator: A speaker will typically ask audience members to raise their hands to signal an affirmative answer to a question. A humorist constructed a funny remark based on a transformation of this scenario:
If you believe in psychokinetic powers, please raise my hand.
This line has been attributed to Steven Wright, Kurt Vonnegut, and Emo Philips. Would you please explore its provenance?
Quote Investigator: The earliest match known to QI appeared in a profile of the surrealist comedian Emo Philips published in "The Palm Beach Post" in January 1990. The journalist Peter Smith attended a performance of Philips and also had dinner with him. The following excerpt includes an instance of the quip. Emphasis added to excerpts by QI: 1
Philips' stage persona is a remarkable mixture of childlike innocence and almost otherworldly sophistication; the man who closes his act by thanking the audience for being his friend also enjoys oddly subtle wordplay and quizzically paradoxical jokes. ("How many people here tonight are telekinetic? Raise my hand.")
Below are additional selected citations in chronological order.
In September 1990 a version of the joke was appended to a message posted to a Usenet newsgroup for Macintosh computer programmers called comp.sys.mac.programmer. The line was part of the signature file of Rich Siegel; hence, it appeared in several of his messages. No attribution was provided: 2
If you have telekinetic powers, raise my hand.
Another Usenet participant noticed the joke and replied with humor: 3
> If you have telekinetic powers, raise my hand.
I just did. I also have hypnotic powers, so you didn't notice.
In June 1993 another instance of the quip appeared in the Usenet newsgroup rec.radio.amateur.misc, and Philips received credit: 4
"Everyone with telekinetic powers, raise my hand."
-Emo Phillips
In 1994 journalist Phil Vettel reviewed a game called Psi-Kick in the "Chicago Tribune", and he shared the joke without an ascription: 5
All those who believe in psychokinesis, raise my hand. Thought so. But you might change your mind after playing around with this game, which includes instructions and paraphernalia to experiment with your own psychic abilities.
In May 1998 "The Dispatch" of Moline, Illinois printed a filler item that implausibly credited comedian Steven Wright with the line: 6
CHUCKLE
"All those who believe in psychokinesis, raise my hand." — Steven Wright
In July 1998 a columnist in a North Carolina newspaper printed several lines credited to Steven Wright, but QI believes that neither of the two below was crafted by Wright: 7
Shirt and sweet: More Steven Wright T-shirt slogans:
* Join the Army. Meet interesting people. Kill them.
* All those who believe in telekinesis, raise my hand.
Kurt Vonnegut died in April 2007, and a piece reviewing his life appeared in May 2007 in a Waterloo, Iowa newspaper. A sidebar of quotations ascribed to him included an instance of the jest: 8
"Those who believe in telekinetics, raise my hand."
The quotation collector Robert Byrne included the line in his 2012 compilation "The 2,548 Wittiest Things Anybody Ever Said": 9
How many people here believe in telekinetic powers? Raise my hand.
—Emo Philips
In conclusion, Emo Philips is the leading candidate for creator of this joke based on the 1990 citation. It is possible that Steven Wright who received credit by 1998 actually crafted the quip. It does fit his style of humor, but the multi-year delay reduces the probability of his authorship. In addition, Wright is a quotation magnet, i.e., many jokes have been incorrectly reassigned to him. Neither Philips nor Wright is known for stealing lines. The ascription to Kurt Vonnegut has no substantive support.
Image Notes: Multicolored illustration of raised hands from Kaz at Pixabay.
(Great thanks to colleague William Mullins whose inquiry led QI to formulate this question and perform this exploration. Mullins noted that the quip had been attributed to Kurt Vonnegut, Emo Philips, and Steven Wright. He also located the key citation in January 1990 together with other valuable citations. Thanks also to Massimo who tweeted a picture of a sign displaying the joke. Further thanks to discussants Max Maven and Jamy Ian Swiss.)