Critic: Max Beerbohm? G. K. Chesterton? Hugh Walpole? C. L. Edson? Piccolo? Maurice Francis Egan? John Cournos? Sara Henderson Hay? Theodore Sturgeon? Anonymous?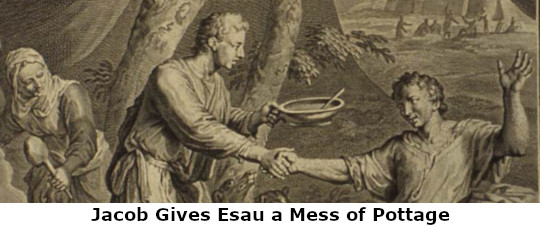 Person Being Criticized: H. G. Wells? John Galsworthy? William Lafayette Strong? Douglas Goldring? Margaret Halsey?
Dear Quote Investigator: The Bible tells the story of Esau who made a foolishly impulsive decision when he was hungry. His younger brother, Jacob, offered Esau a dish of lentils in exchange for his birthright, and Esau accepted. The phrase "mess of pottage" is used to describe the dish in the Geneva Bible of 1560 and other editions. 1 The following idiom refers to giving up something of great value or importance in return for something of little value:
Sell your birthright for a mess of pottage.
This statement inspired a spoonerism:
Sell your birthright for a pot of message.
This style of wordplay has been used in literary criticism. For example, barbs of the following type have been aimed at writers who employed crudely didactic themes and plots:
H. G. Wells sold his soul for a pot of message.
John Galsworthy sold his artistic birthright for a pot of message.
Would you please explore this topic?
Quote Investigator: The phrase "pot of message" was circulating in the 1800s as discussed further below. The first evidence located by QI of the wordplay employed in the criticism of a significant literary figure occurred by 1919 in "The Sun" newspaper of New York. Novelist and lecturer Hugh Walpole aimed a jibe at science fiction author and social activist H. G. Wells; however, the attribution was anonymous. Emphasis added to excerpts by QI: 2
It is this passionate longing for a less muddled world that has reduced the Wells of the most recent period, the Wells who has "sold his soul for a pot of message," as some one put it the other day. The war only increased and stimulated the propagandist energy that had always been there.
Here are additional selected citations in chronological order.
In 1850 a letter to the editor was published in "The Tablet" of Dublin, Ireland. The author complained that people afflicted with hunger and poverty were being convinced to switch their religious allegiance. The phrase "pot of message" in the following referred to the combination of proselytizing with offers of food: 3
There is neither a resident landlord, magistrate, or shopkeeper to aid or assist; none but three or four Monks and my poor Curate. No public employment of any sort. But we are invaded with swarms of jumpers, striving to seduce the poor at their dying, hungry moments from the fold of Christ, by a pot of message. Such is the sad state of this doomed parish.
In 1863 a newspaper in West Virginia printed a comical filler item in which an anonymous clergyman inadvertently delivered the spoonerism: 4
An energetic clergyman, in a recent earnest address on the folly of abandoning great spiritual realities for the vanishing pleasures of this world, said: "Why will you, my hearers, give up your birthright for a pot of message?" The argument was very good, but the statement was a little thick.
In 1869 the spoonerism occurred in a Lancashire, England newspaper within a short piece titled "Clerical Blunders": 5
The same excellent gentleman was illustrating a sermon on human greed by the story of Esau. "How many there are, my friends," said he impressively, "even among us, who would exchange their birthright for a pot of message."
The joke continued to circulate for decades. In 1887 an elaborate instance appeared in "The Globe" of London, England: 6
A Correspondent of the Spectator declares that he once heard an Irish clergyman conclude a sermon thus:—

"My brethren, let me once more urge upon you not to follow the example of Esau, who sold his birthright for a pot of messages; no, for a message of pots; no, for a pottage of messes; at any rate, he did sell his birthright" (this last sentence was said very savagely); "and now to," etc., etc.
In 1895 William Lafayette Strong became the mayor of New York City while opposing the Tammany Hall political organization. "The Tammany Times" printed a quip aimed at Strong: 7
It is rumored that Mayor Strong is sitting up late at nights preparing another message. After a while New York will realize that she has sold her birthright for a pot of message.
The English writer G. K. Chesterton did employ the phrase "mess of pottage", but QI has not yet found evidence that he used "pot of message". For example, in 1918 a San Francisco, California periodical published an essay by Chesterton containing "mess of pottage": 8
The poorer English citizen was not only forced to sell his birthright for a mess of pottage. He was told that a bureaucrat was ready on the spot to receive the surrender of his birthright, as if it were his birth certificate.
In 1919 Hugh Walpole shared a criticism that had been leveled against H. G. Wells as mentioned previously in this article:
. . . Wells who has "sold his soul for a pot of message," as some one put it the other day.
In 1920 newspaper columnist C. L. Edson published "The Gentle Art of Columning: A Treatise on Comic Journalism", and he credited Walpole with the quip aimed at Wells: 9
Hugh Walpole, criticizing H. G. Wells for becoming a preaching novelist said: "As Esau sold his birthright for a mess of pottage, Wells has sold his soul for a pot of message." The punning instinct will not down, and occasionally, as in Walpole's instance, the pun is an epigram.
In March 1920 "The New Republic" printed a piece by the pseudonymous Piccolo who had attended a lecture by Hugh Walpole during which the saying was employed: 10
The novel of ideas, of propaganda, comes second. He quotes the phrase concerning a novelist who has "sold his birthright for a pot of message." He smiles at the man with a purpose who, over 40, wants to make the world better, and, under 30, wants to make it worse.
In May 1920 literary critic and diplomat Maurice Francis Egan criticized novelist John Galsworthy: 11
. . . Mr. Galsworthy, whose gardens are delightful but who seems to have sacrificed his birthright as a novelist "for a pot of message" . . .
In October 1920 "The Atlanta Constitution" published a review of a play by Douglas Goldring. The barb was included, and it was credited to humorist Max Beerbohm although the original target of Beerbohm's remark was unidentified: 12
As Max Beerbohm said, he has "sold his birthright for a pot of message."
In 1927 "The Century Magazine" printed a piece depicting the recent novels of H. G. Wells harshly, and ascribed the quip to John Cournos: 13
Of late years, the complaint has often been made against H. G. Wells that his idea of a novel is a fat slice of propaganda garnished with a thin coating of story . . .

One of those who couldn't travel the new road with him—John Cournos—remarked sadly a few years ago that Mr. Wells had sold his birthright for a pot of message.
In 1933 Professor of English John William Cunliffe credited Beerbohm with an instance aimed at Galsworthy: 14
He liked his dramas to have "a spire of meaning," and this was no doubt the ground of Max Beerbohm's quip that Galsworthy had "sold his birthright for a pot of message." But he never sacrificed his artistic sincerity or deviated by a hair's breadth from what he believed to be true for the sake of literary success or popular applause.
In 1944 the poet Sara Henderson Hay reviewed the latest work from the best-selling novelist Margaret Halsey, and her judgement was negative: 15
They will be, I am afraid, rather disappointed, for Miss Halsey, as was remarked of another novelist, has sold her birthright for a pot of message.
In 1948 the prominent science fiction author Theodore Sturgeon published a short story titled "Unite and Conquer" in "Astounding Science Fiction". A character in the tale described the early science-themed tales of H. G. Wells positively, but the barb was employed to lambaste the later novels: 16
I think he forgot that when he began to write sociological stuff. As Dr. Pierce remarked, he sold his birthright for a pot of message."
In 1964 a biography of Max Beerbohm by David Cecil attributed several sharp remarks to the humorist including the quip under examination: 17
Of Galsworthy's writings, for instance, he said, 'He has sold his literary birthright for a pot of message.'
However, the Cecil admitted that he did not have solid evidence supporting the attribution:
Remarks of this kind are seldom fully authenticated; and sometimes they sound too uncharacteristic to be true. In selecting them I have had to trust my own judgement as to what is probable.
In 1970 an essay titled "History and Education: The Dialectics of Enquiry" by Paul Nash credited G. K. Chesterton with an instance: 18
Hence, the historian of education will be ready to doubt accepted truths and will be critical of conventional thinking. He will be sufficiently aware of the authority and temptations of his own commitments so that he will avoid selling the historical truth for what G. K. Chesterton called "a pot of message."
In conclusion, this wordplay occurred in the 1800s. It was applied to New York mayor William Lafayette Strong in 1895 by an anonymous humorist in "The Tammany Times" of New York. In December 1919 Hugh Walpole popularized the barb when he aimed it at H. G. Wells, but he disclaimed coinage. In May 1920 Maurice Francis Egan criticized John Galsworthy with the quip. In October 1920 the saying was assigned to Max Beerbohm, but QI has not yet found direct support in the writings or speeches of Beerbohm for this ascription. This article represents only a snapshot of current research, and future investigators may discover citations which shift the earliest attributions.
Image Notes: Illustration of Esau selling his birthright to Jacob for a mess of pottage (dish of lentils). Artwork created by Gerard Hoet. Image is part of a set of bible images published in 1728; accessed via Wikimedia Commons from the Bizzell Bible Collection of the University of Oklahoma Libraries. Image has been cropped and resized.
(Great thanks to Christopher Henrich whose inquiry led QI to formulate this question and perform this exploration. Henrich noted the attribution to G. K. Chesterton, and he located the Theodore Sturgeon citation in "Astounding Science Fiction".)