A. K. Karlson? High School Motto? Evan Esar? Anonymous?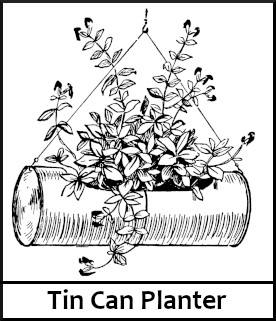 Dear Quote Investigator: The word "can" designates the ability to accomplish a task. "Can" also specifies a container. I recall the following wordplay-based inspirational maxims:
Success comes in cans, failure in can'ts.
Success comes in cans—I can, you can, we can.
Would you please explore this topic?
Quote Investigator: The earliest match located by QI appeared in "The Hartford Courant" of Connecticut in 1907. No attribution was specified for this anonymous adage: 1
MAXIM
For November 2nd.
SUCCESS COMES IN CANS. FAILURE IN CAN'TS.
Below are additional selected citations in chronological order.
In 1909 "The Chicago Live Stock World" of Illinois printed a collection of sayings under the title "Food for Thought". These were the first three items: 2
"Success comes in cans — failures in can'ts"

Empty brains and a heart filled with pride often travel together.

Don't trust to yourself that which can be done better by others.
In 1911 A. K. Karlson of Portland, Oregon published an article about "The Canning Industry on a Small Scale", and the saying appeared in the final line: 3
The ownership of a small home canning outfit involves but a small investment and it is one which the fruit grower will never regret. What others have done, you can do. "Success comes in cans, failures in can'ts"
In 1913 a newspaper in Long Beach, California published an advertisement for the "Trading House of The Only Harper". A different type of wordplay was used: 4
If he's a reasonable man show him to me. The Only Harper is the man what knocked the "T" off c-a-n-t. With the "T" knocked off it leaves CAN; and remember success comes in "Cans" only. You CAN trade if you mean business and are reasonable in your demands.
In 1919 a filler item in "The Spectator" of Ozark, Arkansas extended the wordplay: 5
"Success comes in cans not in can'ts," says some one. But there are no can openers provided.
In 1920 a high school in Heavener, Oklahoma selected a motto using grammatical conjugation: 6
For our colors we decided on purple and white, with English violet for our class flower. Our motto is "Success comes in cans—I can, you can, we can," and we are going to live up to it.
In 1921 an advertisement for a commercial college used a version of the saying: 7
Success comes in "Cans." I can, you can attend Mankato Commercial College, Mankato Minn. Send for free catalog.
In 1922 The Harter School Supply Company printed a pamphlet listing "Class Mottoes". Here were three of them: 8
Success awaits at Labor's gate.
Success comes in "Cans".
Sunrise, not Sunset.
Also, in 1922 the high school in Vestaburg, Michigan selected a motto that was similar to the one selected in Oklahoma. However, the phrase "we can" was replaced by "he can": 9
The class motto was "Success comes in cans, " 'I can,' 'You can, ' 'He can.'" Class flower was the "Ophelia Rose."
In 1961 Evan Esar published "Humorous English" which included a section discussing auxiliary verbs such as: can, will, and should: 10
In humorous English they are chiefly used to build epigrams.

Success comes in cans, failures in can'ts.
One can never tell about a girl's morals–and one shouldn't.
Every lazybones deserves a kick in the seat of his can'ts.
In 1994 a newspaper in Waterloo, Iowa printed an advertisement containing a variant saying: 11
MANPOWER encourages all workers to work safely.
SAFETY COMES IN CANS … I CAN! YOU CAN! WE CAN!
The valuable 2012 reference work "The Dictionary of Modern Proverbs" included an entry for "Success comes in can's, failure in can't's" . The first citation was dated 1910. 12
In conclusion, the adage about "cans" and "can'ts" was circulating by 1907. The identity of the originator remains unknown. The motto with "I can, you can, we can" was circulating by 1920. It also has an anonymous attribution.
Image Notes: Illustration of a plant pot constructed from tin cans. This is a public domain image from "The Book of Knowledge" (1912).
(Great thanks to Edward David Luft whose inquiry led QI to formulate this question and perform this exploration. Thanks also to previous researchers Charles Clay Doyle, Wolfgang Mieder, and Fred R. Shapiro of "The Dictionary of Modern Proverbs" ; and Barry Popik of "The Big Apple" website.)