Heinrich Heine? Pyotr Ilyich Tchaikovsky? Apocryphal?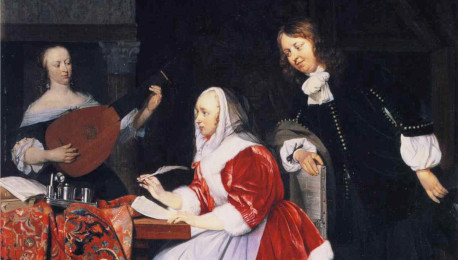 Dear Quote Investigator: A popular adage comments on the comparative expressiveness of words versus music. Here are two versions:
Where words leave off, music begins
Music begins where the spoken word ends
Many people have been credited with this saying including the famous German poet and critic Heinrich Heine. Would you please explore the attribution to Heine?
Quote Investigator: This is a large topic, and this article will focus on the connection to Heinrich Heine. A separate article located here provides an overview. Available evidence suggests that Heine did not coin this adage.
Currently, the earliest match located by QI appeared in a July 1835 essay by Henry Russell Cleveland titled "The Origin and Progress of Music" in "The New-England Magazine". Heine was not mentioned. Boldface added to excerpts by QI: 1
Music begins where language ends; it expresses thoughts and emotions, to which speech can give no utterance; it clothes words with a power which language cannot impart.
Heinrich Heine died in 1856, The earliest attribution of the saying to Heine located by QI appeared in "The Life & Letters of Peter Ilich Tchaikovsky". The famous Russian composer sent a letter in 1878 to his patron Nadezhda von Meck about the symphony he was creating: 2
I can tell you no more, dear friend, about the symphony. Naturally my description is not very clear or satisfactory. But there lies the peculiarity of instrumental music; we cannot analyse it. 'Where words leave off, music begins,' as Heine has said.
This letter was sent more than two decades after the death of Heine; hence, its probative value is reduced. The lack of an earlier citation means that the attribution to Heine is currently weak. Yet, the discovery of earlier evidence, perhaps in German, could strengthen the linkage in the future.
Below are additional selected citations in chronological order.
In 1902 "The Critic" journal of New York mentioned Heine in conjunction with the saying, but the adage was not enclosed in quotation marks: 3
Heine has said of music: "One should not seek for its expression except through playing or singing," for music begins where the spoken word ends. Still, we can speak of the music of the new operas recently presented under the direction of Mascagni. We can also speak of the many pages of diversion offered by that music, as we, perhaps, could not do if it had been left alone in its original, free, and natural state.
In 1919 "California Southland" printed notes written by Felix Borowski of the Chicago Symphony Orchestra. He included an excerpt from Tchaikovsky's letter: 4
Naturally my description is not very clear or satisfactory. But there lies the peculiarity of instrumental music; we cannot analyze it. Where words leave off, music begins, as Heine has said.
In 1930 "The Manchester Guardian" of England printed an article discussing a radio broadcast of music from the B.B.C symphony which included a piece by Tchaikovsky: 5
This summary of the work and its literary basis should not conclude without the quotation from Heine which the composer himself put at the end of his "programme" — "Where words leave off music begins."
In 1943 a columnist in a Hackensack, New Jersey newspaper had grown tired of the saying: 6
To use a hackneyed expression, music takes up where words leave off.
In 1967 "Masters of Music: Their Works, Their Lives, Their Times" Dorothy and Joseph Samachson, attributed an instance of the saying to Heine: 7
"Music begins where words fail," said the poet Heine, expressing in words that do not fail some of the meaning and the importance of music. But if words fail, the reader may ask, why have we written so many of them about music and musicians?
In 1975 "Tchaikovsky: A Self-Portrait" by Vladimir Volkoff included a different translation of the excerpt from Tchaikovsky's 1878 letter: 8
This, my dear friend, is all I can tell you about the symphony. Of course it is unclear and incomplete, but this is in the nature of instrumental music, which does not lend itself to detailed analysis. As Heine said: "Where words end, there music begins."
The adage continued to circulate in 2017 when a writer in a Fairfield, Montana newspaper attempted to find an attribution by using an internet search engine: 9
Heinrich Heine, according to Google, has said, "Where words leave off, music begins." I believe that's true.
In conclusion, Pyotr Ilyich Tchaikovsky credited Heinrich Heine with this adage in a letter he penned in 1878. Heine died in 1856; hence, this attribution provides only weak evidence. The adage was circulating in English by 1835 while Heine was alive. Earlier citations might exist in English, German, French, or Russian. This article is part of a collection of pieces which present a snapshot of current research, and QI looks forward to future discoveries.
Image Notes: Painting of "A Young Woman Composing Music" by Gabriel Metsu circa 1662-1663. Image has been cropped and resized.
(Great thanks to Terry Teachout whose inquiry led QI to publish a set of articles on this topic. Teachout asked about the attribution of the phrase "Where words leave off, music begins" to Heinrich Heine. Thanks also to twitter discussants David Wright, Cameron Wood, Joe Weber, and Amy Alkon.)