Jackie 'Moms' Mabley? Bette Davis? Joan Crawford? Craig Russell? Anonymous?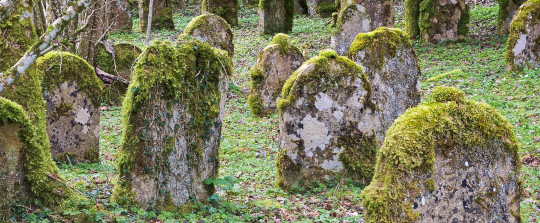 Dear Quote Investigator: Two stars of Hollywood's Golden Age were combative rivals. When one died the other said something like the following:
I was taught that you shouldn't speak of the dead unless you have something good to say. Therefore, I will only say this, 'She's dead at last, good!'
This quip has been attributed to Bette Davis who supposedly was commenting on the demise of Joan Crawford. Yet, the joke may have been in circulation earlier. Would you please explore this topic?
Quote Investigator: The earliest match located by QI appeared in June 1971. The comedian Jackie 'Moms' Mabley received credit for a version of the joke in the "Philadelphia Daily News" of Pennsylvania. A columnist stated that Mabley was in town to tape a syndicated television talk show. She aimed the barb at her former husband: 1
Miss Mabley thinks people should marry only for love. She says her father forced her to marry an older man when she was only a child. "It was a miserable marriage," she said. "But he's dead, thank goodness. I was always taught never to say anything about the dead unless it's good. He's dead. Good!"
Below are additional selected citations in chronological order.
The advice to refrain from criticizing the dead has a very long history. "The Routledge Dictionary of Latin Quotations" included the following entry: 2
de mortuis nihil nisi bonum:
of the dead say nothing but good
(Chilon, one of the Seven Sages of Greece)
Flippant responses to this advice also have a long history. For example, in 1915 a Kansas newspaper printed the following comical verse: 3
"Naught of the dead unless it's good,"
Some poet said, whose name's forgotten.
Yet I have seen (my heart has bled!)
Memorial verses that were rotten!
Mabley received credit for the quip under examination in a Philadelphia newspaper June 1971 as mentioned previously. In the same month Mabley received credit in other newspaper's in Pennsylvania such as the "Standard-Speaker" of Hazleton, Pennsylvania. 4
Joan Crawford died in May 1977. In September 1979 the comedian Craig Russell who specialized in impersonations performed in Ottawa, Canada. A review of Russell's act mentioned his dramatization of Bette Davis: 5
Bette Davis charges about the stage like a caged tiger, flinging her hair back and fluttering her hands, taking swipes at Joan Crawford. ("I think we should speak good of the dead. She's dead. Good.")
QI conjectures that Bette Davis never delivered the gibe aimed at Joan Crawford. Instead, Russell's impersonation of Davis linked her to the joke. Eventually, the remark was ascribed directly to Davis.
In October 1979 "The Calgary Herald" of Calgary, Canada printed a review of Craig Russell's act and mentioned the zinger: 6
With the likes of Bette Davis and Tallulah Bankhead, he is deliciously bitchy. After raking Joan Crawford over the coals, Davis professes remorse.
"We should speak good of the dead," she purrs. "She's dead. Good."
In 1987 "The Sydney Morning Herald" of Australia printed a letter containing an instance of the joke: 7
Dead good SIR: I have always believed you should speak only good of the dead. The Australia Card is dead. That's good.
In 1994 a columnist in Langley, British Columbia, Canada attributed the barb to Davis while spelling "Bette" as "Betty": 8
Betty Davis, speaking on the occasion of her oft declared archenemy's death, put it this way: "My mother told me always to speak good of the dead. Joan Crawford is dead. Good."
In 1994 "The Penguin Dictionary of Jokes" included an entry for the joke without attribution: 9
They say you shouldn't say anything about the dead unless it's good.
He's dead? Good!
In 1999 "The Signet Book of American Humor" printed an excerpt from the stand-up routine of 'Moms' Mabley: 10
I thought he never would die. … I shouldn't talk like that about him though. He's dead. They say you shouldn't say nothing about the dead unless you can say something good. He's dead, GOOD!
In 2012 "The 2,548 Wittiest Things Anybody Ever Said" compiled by Robert Byrne included the following item: 11
You shouldn't say anything about the dead unless it's good. He's dead. Good.
—Jackie "Moms" Mabley (1894-1975)
In conclusion, QI believes Jackie 'Moms' Mabley deserves credit for this joke. After the quip was circulating, the comedian Craig Russell employed a version while he was doing an impression of Bette Davis. This probably caused it to be reassigned to Davis.
Image Notes: Picture of cemetery stones covered with moss from Paul_Henri at Pixabay. Image has been cropped and resized.
(Great thanks to Mark Milano whose inquiry led QI to formulate this question and perform this exploration.)