Emily Dickinson? Susan Gilbert Dickinson? Martha Dickinson Bianchi? Apocryphal?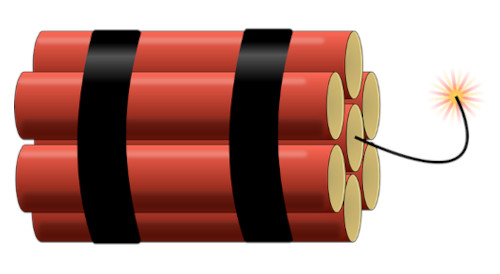 Dear Quote Investigator: The ability to envision something novel and appealing is vital to the formulation and accomplishment of worthwhile goals. A robust imagination initiates the process.
The poet Emily Dickinson employed the apt metaphor of lighting a fuse to express this notion. Would you please help to find a citation?
Quote Investigator: Emily Dickinson lived between 1830 and 1886. She was a prolific correspondent, and she sent hundreds of letters to her sister-in-law Susan Gilbert Dickinson who was a beloved friend and supporter.
Martha Dickinson Bianchi was Susan's daughter and Emily's niece. In 1914 she published "The Single Hound: Poems of a Lifetime", a posthumous collection of works by Emily Dickinson based on manuscripts held by Martha's family. Each poem was assigned a number, and the quotation appeared in the four-line item numbered XXVII. Boldface added to excerpts by QI: 1
The gleam of an heroic act,
Such strange illumination —
The Possible's slow fuse is lit
By the Imagination!
Below are additional selected citations in chronological order.
In 1970 two of the four lines appeared in "The International Thesaurus of Quotations" with an attribution to the famous poet: 2
The Possible's slow fuse is lit /
By the Imagination,
Emily Dickinson, Poems (c. 1862-86).
In 1996 the two lines appeared in "The New Beacon Book of Quotations by Women" compiled by Rosalie Maggio: 3
The Possible's slow fuse is lit / By the Imagination.
Emily Dickinson, in Martha Dickinson Bianchi, ed.,
The Single Hound (1914)
The lines also appear in researcher Mardy Grothe's valuable online database called "Dr. Mardy's Dictionary of Metaphorical Quotations" within the section titled "Imagination". 4
In conclusion, Emily Dickinson deserves credit for the poem she crafted and sent to her friend Susan Gilbert Dickinson. The four lines appeared in the 1914 collection "The Single Hound".
Image Notes: Public domain illustration of dynamite with a lit fuse from OpenClipart-Vectors at Pixabay. The image has been retouched and resized.