Will Rogers? Charles F. Kettering? Max Denney? Thomas Jefferson? Robert Heinlein? Anonymous?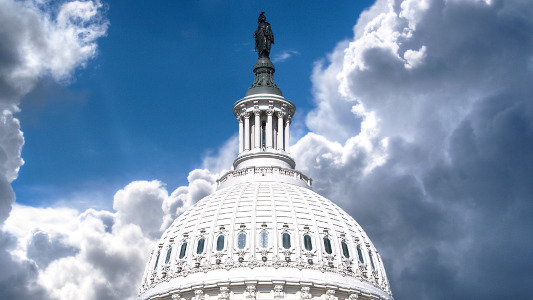 Dear Quote Investigator: Many complain about the burdensome taxes collected by some governments. Many also complain about the counter-productive and wasteful actions taken by those governments. These criticisms have been combined to produce the following comical remark:
Thank heavens we don't get all the government we pay for.
This saying has been attributed to Charles F. Kettering who was the head of research at General Motors Corporation for many years. The quip has also been credited to the popular humorist Will Rogers. Would you please explore this topic?
Quote Investigator: This quip is difficult to trace because its phrasing is highly variable. The earliest match located by QI appeared in a Fairbury, Nebraska newspaper in 1947. Local businessman Max Denney addressed a meeting of Rotarians and discussed government spending. He employed the joke but disclaimed credit. Boldface added to excerpts by QI:[1] 1947 June 11, The Fairbury Daily News, Says Public Interest Answer To Worry Over Tax Burdens, Quote Page 1, Column 8, Fairbury, Nebraska. (Newspapers_com) .
The only bright spot in the cost of government Denney said, is one man's observation that "Thank goodness we don't get as much government as we pay for"
QI thinks that an anonymous jokesmith should receive credit for this saying based on current knowledge. Will Rogers died in 1935, and he received posthumous credit in 1966, but the long delay meant that this was very weak evidence.
Charles F. Kettering used the joke in 1949, but he disclaimed credit. See below. Here are additional selected citations in chronological order.
Continue reading Thank Goodness We Don't Get As Much Government As We Pay For
References

↑

1
1947 June 11, The Fairbury Daily News, Says Public Interest Answer To Worry Over Tax Burdens, Quote Page 1, Column 8, Fairbury, Nebraska. (Newspapers_com)