Ralph Waldo Emerson? Elbert Hubbard? Sarah S. B. Yule? John R. Paxton? Orison Swett Marden? Anonymous?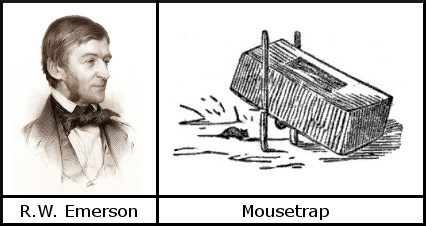 Dear Quote Investigator: A remarkably popular adage about innovation highlights mousetraps and celebrity:
Build a better mousetrap, and the world will beat a path to your door.
The origin of this saying was complex, and the topic has been contentious. Historically, the following people have been linked to the phrase: philosopher Ralph Waldo Emerson, aphorist Elbert Hubbard, clergyman John R. Paxton, and quotation collector Sarah S. B. Yule. Would you please examine this subject?
Quote Investigator: The earliest strongly matching statement located by QI was published in "The Atlanta Constitution" of Atlanta, Georgia on May 11, 1882 in a section called "Current Comment". Boldface has been added to excerpts:[1] 1882 May 11, Atlanta Constitution, Current Comment: The Value of Good Work: Ralph Waldo Emerson, Quote Page 4, Column 4, Atlanta, Georgia. (ProQuest)
The Value of Good Work,
Ralph Waldo Emerson.

If a man can write a better book, preach a better sermon or make a better mouse trap than his neighbors, though he builds his house in the woods, the world will make a beaten path to his door.
Emerson died on April 27, 1882, so the above passage was ascribed to him shortly after his death. In the following days, months, and years the quotation appeared in a wide variety of periodicals and books together with the acknowledgement. For example, on May 15, 1882 the text along with Emerson's name was printed in "The Cincinnati Enquirer" of Cincinnati, Ohio.[2] 1882 May 15, The Cincinnati Enquirer, Personal, Quote Page 4, Column 4, Cincinnati, Ohio. (Newspapers_com) On May 19, 1882 it was reprinted in the "The Decatur Daily Republican" of Decatur, Illinois.[3] 1882 May 19, Decatur Daily Republican, Tea-Table Talk, Quote Page 2, Column 2, Decatur, Illinois. (Newspapers_com)
Minor alterations in the text occurred as the quotation was widely replicated. The term mousetrap was sometimes presented as two words: "mouse trap" and sometimes hyphenated: "mouse-trap". In modern times, the term often appears as a single unhyphenated word: "mousetrap". The word "neighbors" was sometimes given in the singular form.
The saying was employed as a filler item in newspapers, and it also appeared in columns containing miscellaneous short news items and sayings. The specific circumstances when Emerson spoke or wrote the statement were not specified.
Over the decades the phrasing has evolved. For example, by 1901 a version with "build a better mouse-trap" instead of "make a better mouse-trap" was circulating.
An exact match for the passage above has never been found in the published writings or personal journals of Emerson. However, a solid thematic match was written in his journal dated 1855 in a section about "Common Fame". A mousetrap was not mentioned; instead, other goods and services were specified:[4]1912, Journals of Ralph Waldo Emerson with Annotations, Edited by Edward Waldo Emerson and Waldo Emerson Forbes, 1849-1855, Volume 8, Year Specified for Journal Entry: 1855, Quote Page 528, Published … Continue reading
Common Fame. I trust a good deal to common fame, as we all must. If a man has good corn, or wood, or boards, or pigs, to sell, or can make better chairs or knives, crucibles or church organs, than anybody else, you will find a broad hard-beaten road to his house, though it be in the woods.
Emerson was a popular speaker who delivered numerous public lectures over a period of decades. He used his journals as source material for his speeches, but the phrasing employed in the notebooks and speeches was variable. QI believes Emerson probably did voice the passage with "mouse trap" during a speech.
Indeed, a woman named Sarah S. B. Yule stated that she heard one of Emerson's public addresses and copied the "mouse trap" statement into a notebook. In 1889 she placed the remark into a published compilation of quotations and adages titled "Borrowings". Detailed information is given further below.
Below are additional selected citations in chronological order.
Continue reading If You Build a Better Mousetrap the World Will Beat a Path to Your Door
References

↑

1
1882 May 11, Atlanta Constitution, Current Comment: The Value of Good Work: Ralph Waldo Emerson, Quote Page 4, Column 4, Atlanta, Georgia. (ProQuest)

↑

2
1882 May 15, The Cincinnati Enquirer, Personal, Quote Page 4, Column 4, Cincinnati, Ohio. (Newspapers_com)

↑

3
1882 May 19, Decatur Daily Republican, Tea-Table Talk, Quote Page 2, Column 2, Decatur, Illinois. (Newspapers_com)

↑

4
1912, Journals of Ralph Waldo Emerson with Annotations, Edited by Edward Waldo Emerson and Waldo Emerson Forbes, 1849-1855, Volume 8, Year Specified for Journal Entry: 1855, Quote Page 528, Published by Houghton Mifflin Company, Boston, Massachusetts. (HathiTrust Full View) link link