Emily Dickinson? Susan Gilbert Dickinson? Martha Dickinson Bianchi? Apocryphal?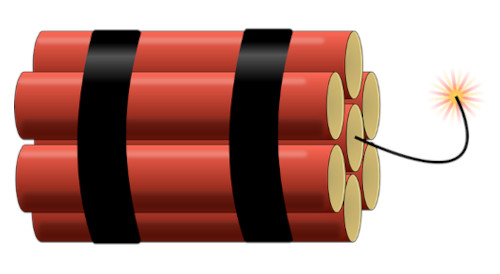 Dear Quote Investigator: The ability to envision something novel and appealing is vital to the formulation and accomplishment of worthwhile goals. A robust imagination initiates the process.
The poet Emily Dickinson employed the apt metaphor of lighting a fuse to express this notion. Would you please help to find a citation?
Quote Investigator: Emily Dickinson lived between 1830 and 1886. She was a prolific correspondent, and she sent hundreds of letters to her sister-in-law Susan Gilbert Dickinson who was a beloved friend and supporter.
Martha Dickinson Bianchi was Susan's daughter and Emily's niece. In 1914 she published "The Single Hound: Poems of a Lifetime", a posthumous collection of works by Emily Dickinson based on manuscripts held by Martha's family. Each poem was assigned a number, and the quotation appeared in the four-line item numbered XXVII. Boldface added to excerpts by QI: 1
The gleam of an heroic act,
Such strange illumination —
The Possible's slow fuse is lit
By the Imagination!
Below are additional selected citations in chronological order.
Continue reading The Possible's Slow Fuse Is Lit By the Imagination!