John Barrymore? Walter Sichel? William Powell Frith? Anonymous Scene-Shifter? Johnston Forbes-Robertson? Arthur Machen? Cedric Hardwicke? Errol Flynn?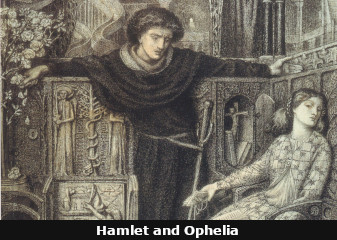 Dear Quote Investigator: The theater world has long been known for complex tempestuous relationships between cast members on and off the stage. One comical tale concerns the ambiguous relationship between Hamlet and Ophelia presented in William Shakespeare's renowned tragedy.
An inquisitive theatergoer asked a well-known stage manager, "Did Hamlet have an affair with Ophelia?" The manager quickly responded, "In my company, always".
Would you please explore the history of this tale?
Quote Investigator: In 1923 "The Sands of Time: Recollections and Reflections" by Walter Sichel appeared. The author relayed a story he heard from the painter William Powell Frith who died in 1909. Emphasis added to excerpts by QI:[1] 1923, The Sands of Time: Recollections and Reflections by Walter Sichel, Chapter 8: Editorship—and After, Quote Page 238, Hutchinson and Company, London, England. (HathiTrust Full View)
At one time he delighted to go behind the scenes of the theatre and chat with the scene-shifters. One of them appeared very intelligent, and Mr. Frith asked him if he had ever himself been a player. He had, in the provinces. Had he ever acted Shakespeare? Of course he had, he had played in 'Amlick, he had, indeed, acted the chief part.

"Very interesting," said Mr. Frith, "please tell me what is your conception of Hamlet's relation to Ophelia. Did he, so to speak, love her not wisely but too well?" "I don't know, sir, if 'Amlick did, but I did," was the unblushing answer.
The key line was delivered by an anonymous thespian who also worked as a member of a stage crew. This family of anecdotes is highly variable in expression; thus, the origin is difficult to trace.
Below are additional selected citations in chronological order.
Continue reading "Did Hamlet Have an Affair with Ophelia?" "In My Theater Company, Invariably"
References

↑

1
1923, The Sands of Time: Recollections and Reflections by Walter Sichel, Chapter 8: Editorship—and After, Quote Page 238, Hutchinson and Company, London, England. (HathiTrust Full View)