Charles Dickens? Henry Southgate? Frank J. Wilstach? Apocryphal?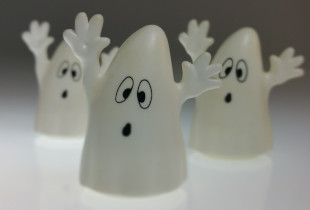 Dear Quote Investigator: The popular writer Charles Dickens vividly depicted the neighborhoods, lives, and habits of the disparate social classes of Victorian England. His rich language employed clever similes such as:
An idea, like a ghost, must be spoken to a little before it will explain itself.
In other words, an idea must be interrogated and pondered before it is understood. I have searched the writings of Dickens and cannot find this precise phrasing, but I am confident he wrote something similar. Would you please help me to find a citation?
Quote Investigator: Between 1846 and 1848 Charles Dickens published installments of the novel "Dealing's with the Firm of Dombey and Son Wholesale, Retail, and for Exportation". Dickens portrayed the friendly character Mr. Toots as a person of limited intellect. The simile under examination was used by Dickens to signal that Toots was unable to understand the thoughts and motivations of the character Paul Dombey. Emphasis added to excerpts by QI: 1
Ideas, like ghosts (according to the common notion of ghosts), must be spoken to a little before they will explain themselves; and Toots had long left off asking any questions of his own mind.
Below are additional selected citations in chronological order.
Continue reading Ideas, Like Ghosts . . . Must Be Spoken To a Little Before They Will Explain Themselves