Oscar Wilde? Seamus Heaney? Dorothy Parker? Israel Zangwill? Jen Kirkman? Apocryphal?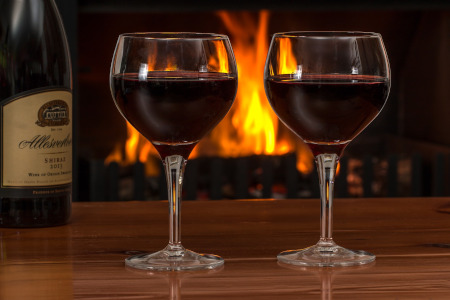 Dear Quote Investigator: The body and the soul separate at the time of death according to many religious systems. Hence, the idiom "keep body and soul together" refers to maintaining life, i.e., earning enough money to maintain health and activity. The famous Irish wit Oscar Wilde has received credit for a reversal of the idiom. Here are two versions:
(1) I drink to keep body and soul apart.
(2) I drink to separate my body from my soul.
I am skeptical because I have not seen a good citation. Would you please explore this saying?
Quote Investigator: QI has found no substantive evidence supporting the ascription to Oscar Wilde. It is not listed in the compendium "Oscar Wilde in Quotation: 3,100 Insults, Anecdotes, and Aphorisms". 1 Also, it does not appear in researcher Ralph Keyes's collection "The Wit & Wisdom of Oscar Wilde". 2
Wilde died in 1900, and the earliest match located by QI appeared in "The Boston Globe" in 1981. The newspaper published a profile of Irish poet and translator Seamus Heaney who later received the Nobel Prize in Literature. Heaney told the "Globe" journalist that Wilde crafted the saying. Boldface added to excerpts by QI: 3
He is particularly at ease in his own kitchen, brewing a fresh pot of tea, slicing bread for a guest, talking. He is not, I rush to add, exactly uncomfortable hunched over a pint in a pub, talking.

"Do know that Oscar Wilde said he drank to keep body and soul apart? That's good, isn't it?"
Below are additional selected citations in chronological order.
In July 1890 Oscar Wilde began to publish installments of "The Picture of Dorian Gray" in "Lippincott's Monthly Magazine". The novel included a discussion of the relationship between the body and soul: 4
Soul and body, body and soul,—how mysterious they were! There was animalism in the soul, and the body had its moments of spirituality. The senses could refine, and the intellect could degrade. Who could say where the fleshly impulse ceased, or the psychical impulse began? How shallow were the arbitrary definitions of ordinary psychologists!
. . .
The separation of spirit from matter was a mystery, and the union of spirit with matter was a mystery also.
Also, in 1894 Wilde referred to body and soul within one of thirty-five witticisms he published in a student journal at the University of Oxford called "The Chameleon". The following three items were included. 5
Those who see any difference between soul and body have neither.

One should either be a work of art, or wear a work of art.

If one tells the truth one is sure, sooner or later, to be found out.
Scholar Richard Ellmann's biography credited Wilde with another pertinent epigram: 6
By the artificial separation of soul and body men have invented a Realism that is vulgar, an Idealism that is void.
Author Frank Harris's biography credited Wilde with a remark about nourishing both his body and his soul: 7
"I only demand that freedom which I willingly concede to others. No one condemns another for preferring green to gold. Why should any taste be ostracised? Liking and disliking are not under our control. I want to choose the nourishment which suits my body and my soul."
None of the above attested remarks by Wilde mentioned drinking as a technique to sever body and soul.
In 1928 the wordsmith Dorothy Parker penned a witticism reversing the idiom about keeping body and soul together: 8
If you yourself haven't any spare jobs for a retired book-reviewer, maybe some friend of yours might have something. Maybe you wouldn't mind asking around. Salary is no object; I want only enough to keep body and soul apart.
A Quote Investigator article dedicated to Parker's remark is available here.
In 1981 Seamus Heaney ascribed the saying under examination to Oscar Wilde as mentioned previously: 9
"Do know that Oscar Wilde said he drank to keep body and soul apart? That's good, isn't it?"
In 1990 the New York periodical "Gentlemen's Quarterly" also credited Wilde: 10
Oscar Wilde liked to say that he drank to keep body and soul apart, and it is in this same devil-may-care spirit that Harry Craddock, the esteemed mixologist, created The Savoy Cocktail Book.
In 2003 a piece in "The Daily Telegraph" of London credited Wilde: 11
From the Duke we moved on to O'Neill's, second home to generations of Trinity College students, among them Oscar Wilde, who drank, he said, to keep body and soul apart.
In 2009 "The Irish Times" of Dublin, Ireland printed four new poems by Seamus Heaney. The poem "Chansons D'Aventure" included these three lines: 12
Of a Sunday morning ambulance
When we might, O my love, have quoted Donne
On love on hold, body and soul apart.
In 2017 comedian and author Jen Kirkman published "I Know What I'm Doing — and Other Lies I Tell Myself", and she credited an instance of the saying to Wilde: 13
I lay in bed longing to hear the ghost of Oscar Wilde shouting profound things outside my window in his perfect peacoat: "I drink to separate my body from my soul!"
In conclusion, current evidence indicates that Oscar Wilde should not receive credit for this saying. Seamus Heaney employed the earliest instance known to QI, but he disclaimed credit when he ascribed the remark to Wilde. Thus, the creator remains anonymous.
Image Notes: Picture of two glasses of red wine from stevepb at Pixabay. Image has been resized.