H. L. Mencken? Theo Lippman Jr.? Apocryphal?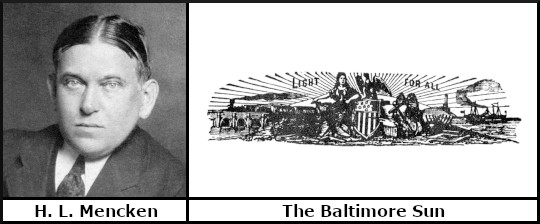 Dear Quote Investigator: Newspaperman H. L. Mencken is famous for his insightful and acerbic commentaries, but he also spent the early years of his career as a reporter, and he looked back upon that period with fondness. Apparently, he nostalgically described reporting as "the life of kings" and "fun". Would you please help me to find a citation?
Quote Investigator: In 1946 Stanley Walker who had been a reporter and editor at the "New York Herald Tribune" for many years wrote a piece titled "What Makes a Good Reporter?" which included strong praise for Mencken. Emphasis added to excerpts by QI: 1
The name H. L. Mencken to most Americans doubtless means either the scholarly "Sage of Baltimore," or the iconoclast, or the expert on the American language. Actually, whenever he has turned his hand to it, he has produced some of our finest reporting.
Walker extolled Mencken's reportage during the Scopes Trial in 1925, and he spoke highly of several other journalists. Yet, the article ended with melancholy words about the upcoming generation of reporters:
They do not seem to have much fun, and newspaper work for them is hardly the high adventure that we used to fancy it. But maybe they are right and maybe we were wrong.
In 1946 Mencken read the article, and he sent a letter to Walker containing recollections of happiness: 2
I needn't tell you that I was delighted by your Christian mention of me in "What Makes a Good Reporter". As I look back over a misspent life I find myself more and more convinced that I had more fun doing news reporting than in any other enterprise. It is really the life of kings.
A tweet on August 10, 2018 from the account of "The Baltimore Sun" included an image showing the full text of the 1946 letter from Mencken to Walker. 3
Below are additional selected citations in chronological order.
Continue reading I Had More Fun Doing News Reporting Than in Any Other Enterprise. It Is Really the Life of Kings
Notes:
1946 February, The American Mercury, What Makes a Good Reporter? by Stanley Walker, Start Page 207, Quote Page 209 and 213, The American Mercury, Inc., New York. (Unz) ↩
Letter, Date: January 30, 1946, From: H. L. Mencken, To: Stanley Walker of New York Herald Tribune, New York City, Provenance: H.L. Mencken papers, Manuscripts and Archives Division, New York Public Library; Astor, Lenox, and Tilden Foundations; Courtesy of the Enoch Pratt Free Library/State Library Resource Center Mencken Collection, Image of letter was attached to a tweet, Tweet from The Baltimore Sun on August 10, 2018. (Accessed on twitter.com on August 13, 2018) link ↩
Tweet, From: The Baltimore Sun @baltimoresun, Tweet Time: 11:19 PM, Tweet Date: August 10, 2018, Text of tweet: We've published Mencken's letter, dated Jan. 30, 1946, here for the first time, to set the record straight once and for all. Just in time, as we leave Calvert Street for Sun Park in Port Covington. On to the next chapter. (Accessed on twitter.com on August 13, 2018) link ↩